The Global Commission on Drug Policy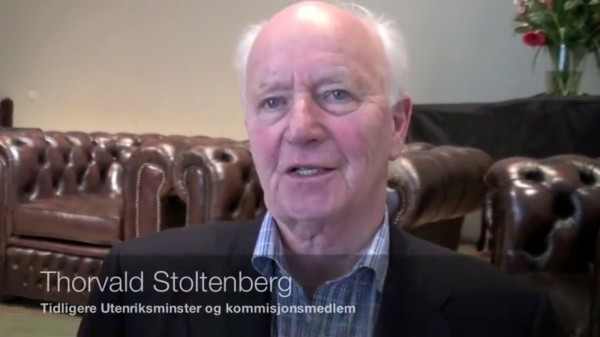 Den internasjonale kommisjonen er representert av en rekke høytstående politikere og tjenestemenn, blant annet tidligere president i Brasil Fernando Henrique Cardoso, tidligere president i Colombia Cesar Gaviria, FNs tidligere generalsekretær Kofi Annan, tidligere EU høykommissær for felles utenriks-og sikkerhetspolitikk Javier Solana, og UNAIDS direktør Michel Kazatchkine. Norge er representert ved tidligere utenriksminister Thorvald Stoltenberg.
The Global Commission on Drug Policy:
«Forsøk på å utrydde produksjon og kriminalisering av forbruk har ikke redusert narkotikatrafikken og bruk av illegale rusmidler. Skade fra korrupsjon og vold som følge av forbudet overstiger i stor grad skader forårsaket av bruk. Saken er omgitt av frykt og feilinformasjon.»
«Politiske ledere og offentlige personer må ha mot til å si offentlig hva mange av de erkjenner privat, at bevisene på en overveldende måte demonstrerer at undertrykkende strategier ikke vil løse narkotikaproblemet og at krigen mot narkotika har ikke, og kan ikke bli vunnet.»
«Få slutt på kriminaliseringen, marginaliseringen og stigmatiseringen av mennesker som bruker narkotika, men ikke skader andre.»
«Regjeringer må oppmuntres til å eksperimentere med modeller for legalisering for å undergrave organisert kriminalitet og trygge borgernes helse og sikkerhet. Denne anbefalingen gjelder spesielt cannabis.»
Drug Policy Alliance skriver at den globale kommisjonen får støtte fra Human Rights Watch og internasjonale Røde Kors. «They join a surprisingly broad coalition that includes groups such as the Red Cross, who said that drug use should not be a crime in a statement to the UN Commission on Narcotic Drugs last year».
Internasjonale Røde Kors, 20. mars 2012:
Gather knowledge on the scale of the drug use epidemic at country level and decide on the proper response accordingly.

Criminalization, discrimination and stigmatization are not such responses. Laws and prosecutions do not stop people from taking drugs.
Human Rights Watch 4. juni 2013:
«National drug control policies that impose criminal penalties for personal drug use undermine basic human rights. To deter harmful drug use, governments should rely instead on non-penal regulatory and public health policies.

Governments should also take steps to reduce the human rights costs of current drug production and distribution policies. Among the steps should be reforming law enforcement practices and exploring alternatives for legal regulation that would reduce the power of violent criminal groups.»
Følgende tiltak må iverksettes av statsledere og FNs generalsekretær, samt FNs kontor for narkotika og kriminalitet, UNAIDS og Kommisjonen for narkotiske stoffer (utdrag):
"Bytt ut ineffektive tiltak som fokuserer på kriminalisering og straff av mennesker som bruker rusmidler med kunnskapsbaserte og rettighetsbaserte tiltak som har vist seg å meningsfylt redusere negative individuelle og samfunnsmessige konsekvenser av narkotikabruk.»
"Alle myndigheter – fra kommunalt til internasjonalt nivå – må anerkjenne den klare svikten i krigen mot narkotika for å meningsfylt redusere forsyningen av narkotika, og dermed bevege seg vekk fra konvensjonelle tiltak av narkotikarettshåndhevelsens «suksess» (f.eks, arrestasjoner, beslag), som ikke fører til positive konsekvenser i samfunnet.»
«Oppfordre folkehelsens organer innen FN-systemet om å fremme respons på narkotikabruk og relaterte skader og for å fremme evidensbaserte tiltak. Andre organer, inkludert International Narcotics Control Board (INCB), bør underlegges uavhengig ekstern gjennomgang for å sikre at politikken de fremmer ikke forverrer samfunnets helse og sikkerhet.»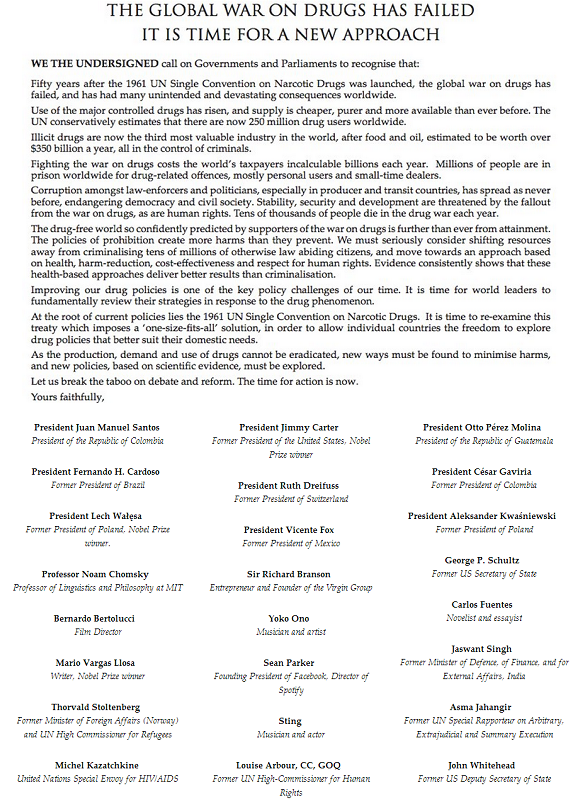 GCDPs representanter
Andre som støtter GCDP

Norges tidligere utenriksminister sitter som medlem i den internasjonale kommisjonen. NRK 2.6.2011
Thorvald Stoltenberg mottok «Cannabis Culture Awards» i 2012 i Nederland på vegne av The Global Commision on Drug Policy, og deres arbeid for å endre narkotikapolitikken. Prisen ble utdelt av tidligere statsminister Dries Van Agt. GCDP fikk denne prisen også i 2013.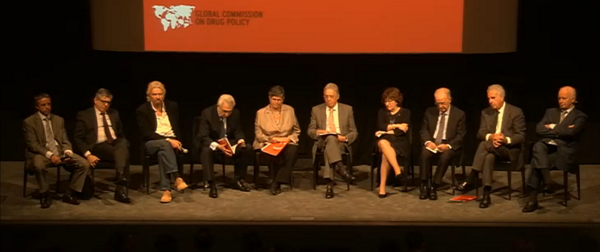 «The upcoming United Nations General Assembly Special Session on Drugs (UNGASS 2016) is an unprecedented opportunity to review and re-direct national drug control policies and the future of the global drug control regime.»
Fra The Global Commission on Drug Policys pressekonferanse 9. september 2014, i forbindelse med publisering av deres nye rapport Taking Control: Pathways to Drug Policies that Work:
«Lovlig regulering av markedet er å ta kontroll, slik det feks blir gjort med tobakk og akohol. Det er myndighetene som skal ha kontroll ikke organisert kriminalitet.
«Hvis denne debatten var helt ny, og ikke etter 50 år med forbudspolitikk, ville debatten ha vært annerledes. Det ville ikke ha blitt debattert hvordan man får forbudspolitikken til å virke, men hvordan man skal regulere markedet så myndighetene får kontroll. Da ville de som hadde argumentert for å innføre et forbudsregime blitt sett på som en marginal og eksentrisk gruppe.
«Det må skilles mellom de ulike rusmidlene, et lovlig marked kan reguleres på ulike måter. Desto mer skadelig et rusmiddel er desto strengere må restriksjonene være.
Ettersom Portugal-modellen ofte blir trukket frem som løsningsforslag i den norske debatten så var det bra at GCDP på pressekonferansen som ble holdt i forbindelse med UNGASS i 2016 presiserte at Portugals forbudsmodell IKKE er en god løsning for cannabis, men at cannabis må lovliggjøres og reguleres.
Se også:
Endring av FN-avtalen (UNGASS)
Norges arbeid frem mot UNGASS 2016