Verden: Lovliggjøring av cannabis rekreasjonelt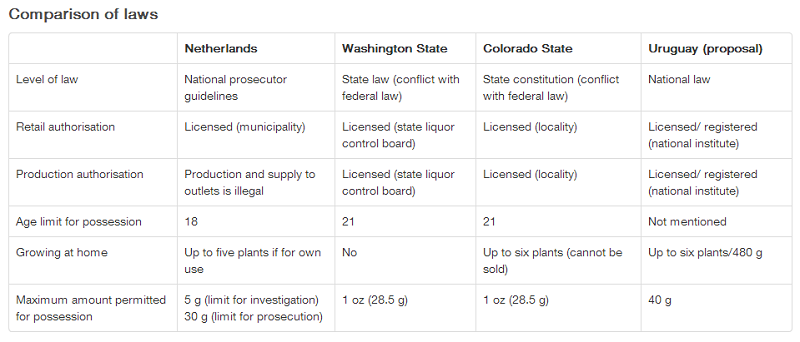 Denne siden blir holdt oppdatert med informasjon om hvilke land som har vedtatt, eller holder på med arbeid for, å lovliggjøre og regulere cannabis for rekreasjonell bruk.
AFRIKA

Marokko
Marokko er et monarki i Nord-Afrika. Landet har ca 33 millioner innbyggere, og et areal på 446 550 km². Hovedstaden Rabat og landets finansielle sentrum og største byområde, Casablanca, ligger begge ved Atlanterhavskysten.
29. juli 2013
The Independent: Politikere i statsminister Abdelilah Benkirane's Islamist Justice and Development party (PJD) og fra opposisjonen Authenticity and Modernity diskuterer et lovforslag lagt frem av Morocco Network.
De marokkanske politikerne forsøker å holde seg innenfor FN-konvensjonene og har derfor foreslått å begrense lovliggjøring av produksjon, salg og eksport til kun medisinsk og industrielt bruk. Jeg har valgt å ta med Marokko på listen, selv om den egentlig bare tar for seg legalisering av cannabis til rekreasjonelt bruk, ettersom det meste av hasjen som blir importert til Norge kommer fra Marokko så er det interessant å følge med på utviklingen der.
«At least 800 000 Moroccans live off illegal marijuana cultivation, generating annual sales estimated at $10bn, or 10 per cent of the economy.»
Khadija Rouissi, fra Authenticity and Modernity party, has called for a national debate about legalising marijuana: «We can't carry on ignoring this elephant in the room.»
Mohamed Boudra, medlem av Authenticity and Modernity party og guvernør i Hoceima-Taounate, landets største cannabisproduserende region, sier at hans parti vil forsøke å få gjennomslag for forslaget i løpet av tre år.
12. februar 2013
Fra TV-programmet «Insider»: 80 prosent av all hasjen som kommer til Norge, dyrkes i Marokko. Tilsvarende tall gjelder for hele Europa. Gateverdien på hasjen som smugles til Norge årlig er på nærmere to milliarder kroner. I år vil det anslagsvis bli smuglet 15 tonn hasj til Norge. De kan aldri stoppe hasjsmuglingen. For hver lastebil som blir tatt, kommer det inn tre-fire andre.»
2. august 2013
Ethan Nadelmann: «In Morocco, long one of the world's leading producers of marijuana, legalization proposals are now being taken seriously by the national government.»
4. desember 2013
The Washington Post: One of Morocco's main political parties has started the process of legalizing marijuana cultivation on Wednesday with an informational hearing in parliament over its industrial and medical uses.
The hearing held by the Party for Authenticity and Modernity, or PAM, is the first step in eventually introducing a draft law to legalize the widely grown cannabis plant — an economic staple in the mountainous north of the country.
According to the UN, Morocco is one of the top producers of hashish in the world, supplying 42 percent of the world supply with nearly all of it going to Europe.
Mehdi Bensaid, a legislator with the party, said the hearing, which included testimony on the Swiss experiences in using cannabis for medical and industrial purposes, was to search for a new policy for this region other than just periodically burning the crops and arresting farmers. He said the next step would be to enlist other political parties as sponsors and introduce a draft law in the next year.
Morocco is a signatory to the 1961 drug control treaty and would face sanctions if it legalized drugs for recreational use, however the treaty does provide exceptions for legal and industrial applications.
While lawmakers from several different parties, including the moderate Islamist party running the government, have expressed support for some sort of legalization, the law is likely to face severe hurdles in parliament.
Artikkelen er fjernet hos The Washington Post, men det samme er lagt ut hos BET.
Hvis alle land som i dag (illegalt) importerer hasj fra Marokko slutter med det, hvis feks myndighetene vil selge kun statsprodusert vare fra eget land (det er forskjell på statsprodusert og statskontrollert), så vil det ha kraftig innvirkning på den marokkanske økonomien. Mange av de som dyrker i dag og som har det som levebrød vil bli arbeidsledige. Det er nok/forhåpentligvis en problemstilling som vil bli tatt opp i forbindelse med revisjon av FN-konvensjonene.

Sør-Afrika
Republikken Sør-Afrika er et land i det sørlige Afrika som grenser til Botswana, Lesotho, Mosambik, Namibia, Swaziland og Zimbabwe. Landet har over 49 millioner innbyggere.
2014
Below the Lion: Things are heating up on the legalisation front with 3 separate Bills drawing 3 different pictures of what legal cannabis could look like in South Africa. We've taken a long hard look at all of the Bills and what they encompass to bring you the lowdown on what you need to know.
Andre Du Plessis har lagt inn lovforslaget: Cannabis Control Bill 2014
Lovliggjøring av cannabis for rekreasjonell bruk, og reguleringer som lisensiert produksjon, distribusjon, aldersgrense, varedeklarasjon, medisinsk bruk for barn og markedsføring.
4. februar 2015
If South Africans are not asking President Jacob Zuma to resign they are calling for dagga to be legalised. These requests made up the majority of the recommendations made to Zuma on social networking sites following an invitation by the presidency for people to send suggestions for the president's state-of-the-nation address. A thread of people on Twitter repeated: "@PresidencyZA: Why not legalise cannabis to increase revenue & save tax Rands by freeing up crowded prisons & courts? #DaggaDebate #SONA2015."
5. februar 2015
The Presidency of South Africa's invitation for the public to ask what they would most like him to discuss during the 2015 State Of The Nation Address brought on a flood of Tweets demanding that he discuss the burning issue on everyone's lips .. legalisation of cannabis.
11. februar 2015
CABC TV: When will Marijuana be legalised? This is what South Africans want to know as all eyes will be on The State of The Nation Address tomorrow.
Narend Singh, Inkatha Freedom Party Member of Parliament and Treasure General: «Med tanke på den utviklingen vi ser i USA hvor flere delstater tillater cannabis for medisinsk bruk så er det mulig at vi også vil tillate det. En av tre mennesker har kreft og mange har epilepsi.»
Operations officer of the Below the Lion Lobby group, William Wallace: «Det blir spennende å følge utvikingen, spesielt The Dagga Couples initativ om at cannabis ikke bare skal være lovlig for medisinsk bruk, men også for rekreasjonell bruk.»
13. februar 2015
Although the legalisation of cannabis was the leading topic demanded to be heard by the public during SONA, it got not so much as a mention.
EUROPA

Belgia
Flanders news, 22. februar 2014:
Det sosialistiske partiet SP.A vedtok å stemme over et forslag fra deres eget ungdomsparti om lovliggjøring og regulering av cannabis. Ungdomspartiet argumenterte blant annet med «that legalisation will get the drug out of the criminal grey zone».
Til tross for sterke protester ønsket ikke partiets leder, Bruno Tobback, at kongressen skulle stemme over forslaget, fordi de hadde viktigere saker på agendaen, det ble derfor ikke stemt for/mot forslaget.
Kristy Kruithof and Mafalda Pardal, researchers at RAND Europe, co-authors of the report Multinational overview of cannabis production regimes:
Whilst Cannabis Social Clubs have been present in Spain for almost twenty years, the first Belgian CSC was established in 2006. Since then, three more Clubs have followed, with the first one, called 'Trekt Uw Plant' ('Pull Your Plant'), consisting of around 300 members in 2013. The establishment of Trekt Uw Plant followed a 2005 joint guideline, issued by the Minister of Justice and the College of Public Prosecutors, which assigned the lowest possible priority to prosecution for possession of up to three grams of cannabis or one cultivated cannabis plant. Within this context, the Club decided to collectively grow cannabis in spaces that are not publicly accessible, allowing one plant per member. Contrary to the Spanish jurisprudence, the two court cases against Trekt Uw Plant did not focus on the (il)legality of the acts of the whole Club as such. Although the issue of legal regulation of cannabis production has been raised by academics and professionals recently, this issue has not been subject to formal discussion or consideration to date. Hence, cultivation of cannabis is currently still illegal under Belgian drug law.

Danmark
København bystyre har vedtatt og tre ganger sendt forespørsel til justisministeren om tillatelse til å åpne lovlige utsalgssteder for hasj, men ikke fått godkjennelse.
Mikkel Warming, sosialborgermester i København:
«Med Uruguays beslutning om at afkriminalisere hash skabes erfaringer – og inspiration, som vi kan bruge for at få det forsøg med afkriminalisering i København, som et stort flertal slås for.»
DR (Danmarks NRK):
«Som det aller første land i verden er Uruguay i Sydamerika parat til gøre det lovligt at producere, sælge og ikke mindst bruge hash. Det kan få stor betydning i Danmark, da tiltaget i Uruguay rydder en af de store hindringer for et dansk forsøg med legal hash af vejen. Et flertal i borgerrepræsentationen i København går nemlig til kommunalvalg til efteråret med et mål om at legalisere hash.»
Warming:
«I København vil vi gerne have lov til at lave et treårigt forsøg, hvor vi afkriminaliserer hash. Hvor vi for eksempel laver offentlige udsalgssteder, hvor man kan købe hash i stedet for at gå ned til en kriminel pusher og fylde pengene i hans lommer.»
«Legaliseringen af især produktionen giver en løsning på et stort problem i hovedstadens planer om forsøg med lovlig hash. Hvis der er et sted, hvor man dyrker det lovligt, må vi også lovligt kunne importere det uden at komme i karambolage med andre regler, den dag vi får lov til at afprøve forsøget.»
Angående import fra Uruguay: Selv om et land bryter FN-konvensjonene og produserer lovlig i forhold til eget lands lover kan de ikke eksportere lovlig, og et annet land kan heller ikke importere lovlig. Det er allikevel viktig at dette diskuteres offentlig som problemstilling, fordi det vil legge press på FN om å endre konvensjonen. Flere innspill.
Berlingske, 26. februar 2014:
«Københavns overborgmester Frank Jensen (S) vil med et nyt forslag legalisere hash i hovedstaden. Og kommunen skal stå for både produktion og salg.
Pointen er, at vi skal reducere skadevirkningerne og forhindre, at brugerne er nødt til at handle med kriminelle netværk,« siger overborgmesteren.
Alle danskere over 18 år skal kunne købe op til fem gram hash ved blot at fremvise sygesikringskort. Overskuddet skal gå til forebyggelse og behandling af hashmisbrug.
Forslaget om legaliseret hashhandel bliver præsenteret for Københavns Økonomiudvalg den 4. marts og behandles derefter.
Hvis legaliseringen skal gennemføres kræver det dispensation fra Justitsministeriet.»
26. februar 2014
Frank Jensen, overborgermester i København: Derfor vil jeg dyrke og sælge hash i København (videoklipp).
Frank Jensen på facebook, 27. februar 2014:
«Hash er skadeligt. Ingen tvivl om det. Men der er gode grunde til, at vi vil have et kontrolleret forsøg med legalisering af hash i København. Vi er nødt til at erkende, at forbudspolitikken er slået fejl.
Vi vil fjerne en milliardomsætning fra banderne og de organiserede kriminelle. Vi vil sikre, at det produkt, man kan købe, er af en ordentlig kvalitet, så man undgår negative skadevirkninger af giftige tilsætningsstoffer. Og vi vil have mulighed for at rådgive brugerne om styrke og virkning, så vi bedst muligt undgår, at unge kommer ud i et misbrug.
Kommunen skal selvfølgelig ikke tjene penge på at sælge hash – vi vil bruge hele overskuddet på oplysning, forebyggelse og behandling af hashmisbrug.»
http://www.facebook.com/luhm.no/posts/496416460406184

Frankrike
Frankrike er et land i Vest-Europa, i tillegg til en samling øyer og territorier i andre verdensdeler. Landet har ca 66,5 millioner innbyggere og 64 millioner av dem bor i Europa. Ca 2,3 millioner bor i landets hovedstad Paris. Landets areal er 640 679 km².
30. januar 2014
«For første gang blir lovliggjøring og regulering av cannabis foreslått i Frankrike.»
Senator Esther Benbassa, medlem av «De grønne» som representerer et område på den sørøstlige grensen til Paris, mener det er på tide med endring. Legaliseringsforslaget hun kom med i januar er det første i sitt slag i Frankrike. På spørsmål om hun selv er forbruker av cannabis svarte hun: «det ønsker jeg ikke å svare på da jeg anser det for å være en privatsak.»
Wikipedia: «I januar 2014 ble det foreslått å fjerne problemene med smugling av cannabis ved å legalisere handel og bruk av cannabis.» Ettersom vi ikke har hørt mer om dette så ble nok forslaget nedstemt, men det har iallefall satt i gang en debatt på høyt politisk nivå i Frankrike.
2. april 2015
Senatet avviste i dag et forslag om å godkjenne «salg og bruk av kontrollert cannabis». Senatorene stemte mot de tre artiklene som utgjorde den foreslåtte loven. Forslagsstiller Esther Benbassa sier: «Det virker ikke som vårt øverste hus ennå er klar til å ta imot forslag om legalisering av cannabis, men debatten er lansert». Hun er sikker på at det vil skje i løpet av noen år.
Forslaget ble i utgangspunktet presentert som en løsning for å erstatte det illegale markedet, men endte opp som et forslag om lovlig salg og bruk til medisinske formål. Lovlig salg til en liten gruppe vil ikke kunne utkonkurrere det illegale markedet.

Irland
2011: Irsk parlamentsmedlem dyrker sin egen cannabis
Luke «Ming» Flanagan har i mange år drevet kampanjer for legalisering av cannabis.
Politikeren velger å begå sivil ulydighet for å unngå å støtte de kriminelle gjengene som styrer det illegale cannabismarkedet.
«Brøt ikke David Norris loven ved å ha homosex da det var ulovlig? Eller hva med parlamentsmedlemmene som brukte kondom da det var ulovlig? Jeg er i det minste ærlig om hva jeg gjør.»
Som resten av verden har Irland de siste tiårene opplevd regelrette kriger mellom konkurrerende kriminelle organisasjoner. Narkotika er bensinen som driver disse organisasjonene, og så lenge de får ha monopol på en av verdens mest etterspurte varer vil de fortsette å vokse seg sterkere.
Flanagan er foreløpig en av få politikere som går i bresjen for regulert legalisering, og som tør å si at det er det som må til for å få løst dette store samfunnsproblemet – som hovedsakelig er skapt av forbudet.
The Irish Times, 24. oktober 2013:
«Ireland is ready for the legalisation of cannabis,» according to Roscommon TD Luke Ming Flanagan, who today published his Cannabis Regulation Bill 2013.
Mr Flanagan estimated that the legalisation of cannabis could generate up to €300 million through tax revenues and the freeing up of resources. However, he stressed this was an estimate and it was not possible to know for sure what savings might be made.
"If cannabis is legalised, we can make a shopping list out of the amount of money which legalising cannabis will save this country," said the TD.
The Bill, which is due to be debated in the Dáil on November 5th and 6th, would, if passed:
– regulate cannabis for recreational and medical use
– allow for home cultivation up to a maximum of six cannabis plant
– allow for the personal possession of up to one ounce of cannabis
– allow for the setting up of "Cannabis Social Clubs" which would allow up to 50 club members to cultivate up to 300 plants for not-for-profit use
– set up a "cannabis regulation authority" to regulate the cultivation, sale, labelling, advertising and marketing of cannabis
– see tax revenue from cannabis fund drug addiction services, medical research and juvenile education courses on drugs.
– include a requirement that the Minister for Justice and Minister for Agriculture to examine the feasibility of the safe regulation and controlled use of cannabis.
"This Bill will protect our youth from unscrupulous dealers; it will make it, in my opinion, more difficult for them to get it; and in the same way as if a minor uses alcohol, a minor who uses cannabis will also face similar sanctions such as having to go into treatment," Mr Flanagan said.

Italia
16. oktober 2012
«CNN on the debate to legalize marijuana cultivation in Italy»:
Rita Bernardini, an italian MP representing the Radical Party is campaigning to legalize marijuana: to make her points she grows up marijuana in the balcony.
2. februar 2014
Et forslag i Torino bystyre, om lovliggjøring og regulering av cannabis, er blitt vedtatt, og skal oversendes til regjeringen.
«The city council approves the appeal to the parliament: «We need to move from a prohibitionist system to one of a kind office of the production and distribution of soft drugs.» Forslaget i Torino gjelder ikke hele landet, men en by i Italia, men debatten er i gang.
12. februar 2014
BBC: «Under the stricter drugs law, lighter drugs such as cannabis and hashish were classified as equal, in legal terms, to Class A drugs cocaine and heroin. This increased the sentences for the cultivation, sale and trafficking of cannabis from 2-6 years to 6-20 years.
According to official data, cited by Reuters news agency, around 62 000 detainees are held in cells built for fewer than 48 000. In January 2013, the European Court of Human Rights ruled that overcrowding in Italy's jails violates the basic rights of inmates. The Italian authorities were fined 100,000 euros ($135,700, £81,934) and ordered to solve the overcrowding issue within a year.»
20. mars 2015
Senator Benedetto Della Vedova som er statssekretær for Italias utenriksdepartement og internasjonalt samarbeid har lagt ut lenke fra sin facebookside til en artikkel som handler om den politiske debatten om cannabis i Italia, hvor det blant annet står:
«Legalisere cannabis? Det er ikke bare en god idé. Det er et utmerket forslag. En pragmatisk tilnærming, basert på en grundig kostnad-nytteanalyse, er nå stadig mer populært i den politiske og kulturelle debatten ikke bare utenfor, men også inne i parlamentet.» Forslaget har ikke blitt til lov ennå, men Della Vedova lover at det vil skje.»
Forslaget tar spesielt utgangspunkt i at lovliggjøring og regulering vil erstatte store deler av det illegale markedet som gir kriminelle organisasjoner store inntekter og som fører til korrupsjon.
International Business Time skriver at forslaget fra senator Benedetto Della Vedova fikk støtte fra 60 politikere i Parlamentet.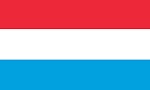 Luxemburg
17. mai 2019
Helseminister Étienne Schneider og justisminister Félix Braz vil i løpet av høsten legge frem et utkast for regjeringen hvor de anbefaler å legalisere cannabis for rekreasjonell bruk.
30. juli 2019
Etter å ha besøkt Canada og fått informasjon om hvordan deres legaliseringsmodell fungerer sier helseministeren i et intervju som er lagt ut på regjeringens nettsider, at de ikke bare vil lovliggjøre bruk, men vil få på plass produksjons- og distribusjonslisenser og finne ut på hvilke vilkår de skal tildeles. Det er ikke avgjort om de også vil foreslå at hjemmedyrking skal bli tillatt.
19. august 2019
Dagbladet har omtalt saken: Første europeiske land vil legalisere cannabis.
24. oktober 2021
Det er to år siden helseministeren i Luxembourg bekreftet at de ville legalisere cannabis. På fredag kunngjorde regjeringen at de som en start har legalisert dyrking og bruk av cannabis for personer over 18 år.
VG: Det skjer som det første landet i Europa. Flere andre land har delvis eller helt avkriminalisert bruken av rusmiddelet.
Justisministeren sier at lovlig hjemmedyrking bare er en start.
– Tanken er at en forbruker ikke er i en ulovlig situasjon om vedkommende bruker cannabis, og at vi ikke støtter hele den ulovlige kjeden fra produksjon til transport til salg, som mye elendighet er knyttet til. Vi vil gjøre alt vi kan for å komme mer lenger og lenger bort fra det illegale svarte markedet.

Nederland
Nederland har hatt sitt system med «lovlige» utsalgssteder siden 70-tallet, hvor staten ikke er involvert i produksjon, men har innført ulike restriksjoner som aldersgrense for bruk.
Release: The Netherlands has long been regarded as a global pioneer in drug policy, often relating back to the amendments to its drug laws in 1976 that created a legal division between hard and soft drugs.110 Technically, the 1976 legislation continued to criminalise drug possession and supply, but guidelines for prosecution introduced at the same time lay the foundation for the decriminalisation framework. These guidelines determined that cannabis supply and possession should be of the lowest priority to law enforcement and prosecutors. This was the system that led to the subsequent creation of the Netherlands' famous 'coffee shops,' which are legally permitted to sell cannabis in limited amounts.
Da regjeringen la til rette for statlig produksjon og salg med registreringsordning som en apotekmodell, ble det ikke så godt mottatt som forventet. Av de estimerte 10 000 til 15 000 man trodde ville be om marihuana på resept benyttet bare 1 300 seg av muligheten til å bruke apotekmodellen i 2010. Det har selvsagt også sammenheng med at kundene ikke bare ønsker å få kjøpt marihuana, men også hasj.
28. mai 2013:
Brendan Hughes, Senior scientific analyst EMCDDA: "Nederland har siden 70-tallet regulert cannabismarkedet med aldersgrense, kvalitetskontroll og «lovlige» utsalgssteder [..] cannabis er ikke et helt harmløst rusmiddel, så det trengs noe kontroll." EMCDDA la klippet ut på sine nettsider sammen med årsrapporten for 2013, og på youtube.
Når EMCDDA viser til Nederland er det fordi de er det landet i Europa som har gått lengst i å regulere cannabismarkedet. Det betyr ikke at de har den perfekte løsningen, de «lovlige» varene er feks ikke lovlig produsert/importert.
Nederland har ønsket en internasjonal debatt om endring av FN-konvensjonene i mange år.
Det er nok ikke så godt kjent, men grunnen til at coffeeshopene ble åpnet i Nederland var fordi de ønsket å flytte salget av cannabis fra/rundt fritidsklubbene inn i «lovlige» utsalgssteder – for å gjøre det mindre tilgjengelig for barn og unge.
Coffeeshopordningen ble også innført fordi myndighetene var bekymret for at det også ble solgt andre stoffer i ungdomsmiljøene, og de "lovlige" utsalgsstedene var et tiltak for å unngå det.
Coffee Shops and Compromise: Separated Illicit Drug Markets in the Netherlands
Rapport fra The Open Society Foundations
«The history of the Dutch approach and describes the ongoing success of the country's drug policy. This includes the impact of the Dutch «separation of markets,» which potentially limits people's exposure and access to harder drugs.»

Norge
Fra partiprogrammer for 2017-21:
Miljøpartiet De Grønne: I september 2014 la The Global Commision on Drug Policy (GCDP) frem sin rapport om effektene av de siste tiårenes ruspolitikk. Rapporten konkluderte med nødvendigheten av grunnleggende reformer, både for å ivareta de som bruker og misbruker rusmidler, for å redusere rusbruk blant unge og for å knekke det illegale markedet.
De Grønne vil føre en kunnskapsbasert og human ruspolitikk. Den enkelte rusavhengige skal tilbys faglig god støtte og behandling samtidig som det arbeides aktivt for å redusere og forebygge kriminalitet og skadevirkninger. Derfor går vi – i tråd med GCDPs anbefaling – inn for avkriminalisering av rusbruk, noe som vil spare både brukere og samfunnet for belastninger.
Rusproblemer skal møtes med helsetilbud og omsorg, ikke straff. Vi ønsker også å utrede hvorvidt regulert omsetning av lettere rusmidler kan bidra til skadereduksjon på individ- og samfunnsnivå, med utgangspunkt i erfaringer fra andre land.
Venstre: «Krigen mot narkotika har feilet. Den har hatt forferdelige konsekvenser for både individer og samfunn over hele verden. Det må gjøres grunnleggende endringer i norsk og internasjonal narkotikapolitikk. Misbruk må møtes med behandling fremfor straff og vi må se på andre modeller for regulering av rusmidler.
Forbud fører til at lettere stoffer blir en døråpner inn i kriminelle miljøer, og til tyngre stoffer. I tillegg har dagens politikk store negative følger for land hvor illegale rusmidler produseres eller smugles igjennom.
Venstre ønsker en kunnskapsbasert tilnærming til ruspolitikken hvor vi reduserer skadevirkninger gjennom strenge reguleringer og alle stoffer vurderes individuelt. Venstre vil: Gjennomgå konsekvenser av og kostnader ved dagens narkotikapolitikk. Utrede alternative måter å regulere rusmiddel som i dag er forbudt med mål om å minimere skade for brukere og samfunn. Klassifisere og differensiere narkotiske stoffer i lovverket etter virkning og skadelighet.

Portugal
Mange tror at en norsk «Portugal-modell» er et forslag om å lovliggjøre og regulere cannabis. Derfor er Portugal satt opp på denne listen, for å vise at de ikke har gjort det.
Portugal avkriminaliserte privat bruk og besittelse av alle rusmidler i 2001. Avkriminalisering betyr ikke lovliggjøring, men at straffereaksjon er noe annet enn et forelegg (forelegg kommer på rullebladet). Det er fortsatt ikke lovlig å bruke cannabis i Portugal.
Mengdebegrensning for cannabis er 25 gram marihuana og 5 gram hasj (10 dagers forbruk). Blir du tatt med inntil lovbestemt mengde skal politiet, hvis det ikke dreier seg om salg, gi en henvisning til en nemd hvor du må møte for en samtale i løpet av de neste 24 timene. Nemden, som består av en advokat, en sosialarbeider og en psykolog, avgjør om du har problematisk bruk (avhengighet) og om du skal videre til behandling. Blir du tatt flere ganger med inntil lovbestemt mengde blir du ilagt et forenklet forelegg (som ikke havner på rullebladet). Blir du tatt med mer enn lovbestemt mengde havner saken i straffeapparatet (fengsel).
Portugal har heller ikke lovliggjort og regulert produksjon og salg, de har fortsatt problemer med det illegale markedet. Å vise til Portugal, hvis man ønsker å erstatte det illegale markedet med et lovlig, er derfor misvisende.
9. mars 2015
På det årlige møtet til The Commission on Narcotic Drugs (CND), hvor de første dagene var satt av til å diskutere forarbeid til UNGASS, presiserte Portugal at de ikke har lovliggjort cannabis, det er fortsatt forbudt, men at de kommer til å gjøre endringer fordi de ser jo at det skjer ting andre steder i verden (USA/Uruguay), men det er litt tidlig for dem å gjøre endringer.

Spania
Kristy Kruithof and Mafalda Pardal, researchers at RAND Europe, co-authors of the report Multinational overview of cannabis production regimes:
In Spain, Cannabis Social Clubs (CSCs) have been operating since the early 1990s. These Clubs produce and share cannabis among their members, both for medical and non-medical purposes. While hundreds of Clubs are estimated to be active in the country, the national legislation is ambiguous with regard to the legitimacy and legality of the CSCs. In fact, while jurisprudence in the field has tended to interpret the existing legislation in a way that permits 'shared consumption' and cultivation for personal use when grown in a private place, there is no additional legislation or regulation defining the particular regime within which cultivation could be permitted. The introduction of such legislation has been discussed on several occasions both at the national and at the regional level, but this has not resulted in a change of national policy or law. The legal uncertainty around production by and distribution within the CSCs has led to the seizure of cannabis crops and to the arrest of some CSC members.

Storbritannia
Oktober 2012
A fresh Approch to drugs: The final report of the UK Drug Policy Commission (2007-12). Our objectives were to:
– Provide independent and objective analysis of UK drug policy.
– Ensure this was used by UK governments when considering policy, and by the media and public to encourage a wider, informed debate.
Desember 2012
Drugs: Breaking the Cycle, Ninth Report of Session 2012–13, Ordered by the House of Commons.
Prime Minister David Cameron rejects the idea of a royal commission on the UK's drug policy suggested by the Commons home affairs select committee.
The influential cross-party group of MPs said the prime minister should urgently set up a royal commission to consider all of the alternatives to Britain's current drug laws, including decriminalisation and legalisation.
The committee chair, Keith Vaz, told the BBC Radio 4 Today programme that a royal commission to look at every aspect of drugs policy and report back by 2015 is «not a big ask».
Januar 2013
Stop the drug war: «The All-Party Parliamentary Group on Drug Policy reform report: Toward a Safer Drug Policy: Challenges and Opportunities Arising from «Legal Highs»: The possession and use of drugs could be decriminalised without abolishing the Misuse of Drugs Act. The use of drugs should be decriminalized, with the least harmful substances regulated and sold in shops.»
13. oktober 2013
The Sunday Times: En rapport, bestilt av visestatsminister Nick Clegg, er planlagt publisert før jul. Den er ventet å foreslå at Storbritannia bør se til de to amerikanske statene hvor cannabis til rekreasjonelt bruk er lovliggjort.
14. oktober 2013
Debate on 17 October: Drugs Policy (Lords Library Note).
«This Library Note provides background reading for the debate to be held Thursday, 17 October on the report of the Home Affairs Select Committee, Drugs: Breaking the Cycle, published in December 2012 (HC 184, session 2012–13) and the report of the All Party Parliamentary Group for Drug Policy Reform, Towards a Safer Drug Policy: Challenges and Opportunities Arising from 'Legal Highs', published in January 2013.»
This Note examines the ongoing debate on drugs policy in the context of the above two reports. It explores the scale of drug misuse and harm in the UK, and the international context of efforts to tackle the supply and trade in illicit substances. The UK policy response in accordance with the Government's current Drugs Strategy is then examined. Finally, the paper explores the debate on the future of drugs policy in light of recent international and domestic calls for reform. Download the full report
17. oktober 2013
Film: House Of Lords Debate On Drugs.
26. november 2013
Den nye ministeren for Storbritannias Home Office (ansvarlig for narkotikapolitikk), Norman Baker, utelukker ikke «legalisering av cannabis», men sier at det ikke er hans viktigste mål i jobben. «Jeg tror det må vurderes sammen med alt annet. Det er ikke mitt hovedmål og jeg er ikke talsperson for det i øyeblikket. Vi bør være forberedt på å følge bevisene og se hvor det tar oss.»
26. november 2013
Transform publiserte boken: «How to Regulate Cannabis: A Practical Guide»:
The social, political, economic and policy landscape of the many jurisdictions approaching this issue vary widely, and each will need to tailor their policy responses and regulatory models accordingly.
12. desember 2013
Transform launched its latest publication, «How to Regulate Cannabis: A Practical Guide», in the UK Houses of Parliament. The event fortuitously coincided with Uruguay passing legislation to make it the first country in the world to legally regulate the production, sale and possession of cannabis – a truly historic moment in drug policy reform.
Transform's event included presentations by Professor David Nutt, Baroness Molly Meacher, Julian Huppert MP and Steve Rolles, co-author of the publication.
15. mars 2014
The Huffington Post UK: Ian Driver, a Green Party councillor for Thanet District Council, said this week he is looking for possible venues in Margate or Ramsgate for an Amsterdam-style cafe.
But Steve Rolles, the Senior Policy Analyst for the Transform Drug Policy Foundation, told the Huffington Post UK he is arguing for a regulated cannabis market in the UK under a strict and sensible framework. Mr Rolles, who advised the Uruguayan government on its landmark decision to legalise the drug earlier this year, said efforts need to be focused on something more "long term".
9. april 2014
CLEAR: «Let's get the dealers off the streets». Annonse på trykk i Storbritannia for lovliggjøring og regulering av cannabis.
A CLEAR plan for the regulation of the cannabis market in the UK (2011): CLEAR har publisert en rapport fra Independent Drug Monitoring Unit (IDMU) som viser at skatte- og reguleringspolitikk for cannabis kan gi en netto gevinst til den britiske økonomien på £6.7 milliarder per år. Dette anslaget fremkommer ut fra en detaljert studie av Storbritannias cannabismarked, potensielle skatteinntekter, innsparinger ved rettssystemet, andre innsparinger, og ekstra kostnader ved regulering inkludert helseinformasjon og utdanning.
28. oktober 2014
Det britiske parlamentet skal torsdag 30. oktober diskutere narkotikapolitikk. Blant annet Transform, Release og The Global Commission on Drug Policy har forklart at det er viktig at politikken må endres og har oppfordret til at flest mulig politkere må være til stede under debatten.
«In advance of the parliamentary debate on UK drug policy this Thursday, 30 October, Release and Transform sent the briefing below to all 650 MPs, to highlight why this debate is so important and why an impact assessment of current policy is so badly needed.»
Richard Branson (GCDP): «We have to thank the wonderful Caroline Lucas of Brighton, whose MP's petition for a debate won the support of more than 135,000 people across the country. To make the most of this opportunity, we have to ensure that MPs across all parties will join Thursday's debat.»
Transform: «The chance to reform the UK's backwards drugs policy is finally here, and we cannot waste it. For the first time in over 40 years the Government has acknowledged that prohibition and populist rhetoric don't work.»
«The Home Office also states that it "will monitor the impacts" of the legally regulated cannabis markets established in Uruguay and the US states of Washington and Colorado. This is a welcome move because, as the report says, "these policies have common aims – disrupting organised crime and exercising greater control over the use of cannabis".»
«Indeed, these markets mean that governments – rather than organised criminals – are in control of the cannabis trade, managing it in a way that better protects public health and safety.»
30. oktober 2014
Mr Baker said he hoped the Commons debate would be the start of a wider debate on drugs policy. «The genie is out of the bottle and is not going back in. The days of robotic mindless rhetoric will no long do – the evidence would not allow it.»
Ms Lucas said at the close of the sometimes-sparsely attended debate, that her only regret was that MPs who were not convinced of the arguments to change existing policy were not in the chamber to hear them.
This written ministerial statement was laid on 30 October 2014 in the House of Commons by Norman Baker and in the House of Lords by Lords Bates of Banbaurgh.
30. oktober 2014
George Murkin (Transform) is optimistic, however, emphasizing the Home Office's report suggests the government will "take account of the experiments in the legal regulation of cannabis in Washington, Colorado and Uruguay."
30. oktober 2014
The Guardian view on drugs policy: «Time for the politicians to study the evidence. The Home Office's new study shows being tough on drugs has no effect on drug use, only on its costs.»
Transform: «The Guardian and the Sun agree about drugs policy. I think I'd better write that again before I feel faint: the Guardian and the Sun agree about drugs policy.»
30. oktober 2014
Crispin Blunt, former Justice minister: "There are examples all over the world of much more enlightened policies on drugs," he said. "Portugal and the Czech Republic have been cited, and a number of American states have changed their policies on cannabis." Mr Blunt said he found it "modestly depressing" that David Cameron had changed his approach to drugs legislation. He said ministers had dared not raised the issue after the 2010 election.
"We have been frightened of the tabloid press, and we have seen what they did to the Liberal Democrat party as a result of some of its policies in this area."
He was supported by Labour's Keith Vaz, the chairman of the Commons home affairs select committee, in calling for a Royal Commission to put forward an alternative to what Mr Blunt called the "utterly disastrous policy of prohibition".
The former Tory Cabinet minister Peter Lilley called for the legalisation of cannabis while still banning the sale to minors and outlawing its consumption in public place.
He said: "Because the sale of cannabis is illegal we drive soft drugs users into the arms of hard drugs pushers."
31. oktober 2014
Grunnen til at det tar så lang tid å endre politikken er at politikerne ikke tør/ønsker å ta en en skikkelig debatt. «Only 21 out of 650 MPs Attend Parliamentary Debate on UK Drug Laws».
31. oktober 2014
Statsminister David Cameron insisterer på at regjeringens narkotikapolitikk virker mens en rapport fra Home Office har skapt en rasende koallisjon mellom de konservative og liberale demokratene.
Visestatsminister Nick Clegg sier at undersøkelsen som konkluderer med at «toughness» of a country's drug enforcement policy did not affect the level of substance abuse» viser at regeringens «krig mot narkotika» har feilet.
Downing Street mener avkriminalisering/legalisering vil sende feil signaler og sier at det ikke vil bli gjort endringer i forhold til dagens strategi.
Cameron er på kollisjonskurs med en rekke parlamentsmedlemmer, inkludert tidligere statsråd Peter Lilley, som mener at en ny tilnærming er nødvendig.
31. oktober 2014
«The Independent continues its prominent coverage of drug policy reform with another front-page article. They're not letting Cameron off the hook.»
4. november 2014
Norman Baker har sagt opp sin stilling som minister for The Home Office, «It was a constant battle to try to get things through».
Norman Baker has resigned as a home office minister, saying working in the department was like «walking through mud». Mr Baker and Mrs May have clashed over drugs policy, with the Lib Dem recently calling for sweeping changes to the UK's approach following the publication of a Home Office report which he accused the Conservatives of blocking.
He said: «Despite these challenges, I am pleased with what I have been able to achieve, not least to have been the first minister with responsibility for drugs to have put prejudice aside and published an evidence-based approach to this important issue, despite repeated Conservative efforts to block release.»
The Home Office: «Leads on immigration and passports, drugs policy, crime policy and counter-terrorism and works to ensure visible, responsive and accountable policing in the UK.»
4. november 2014
Statsminister Cameron er ikke villig til å endre politkken, men det er flere aviser som har fulgt opp saken.
8. november 2014
Nick Clegg, visestatsminister i Storbritannia, sier etter et møte med president Santos at han ønsker samarbeid mellom Europa og Latin-Amerika.
The Guardian: «Nick Clegg and Juan Manuel Santos to lead global initiative on drugs reform Deputy prime minister and Colombian president to seek allies in advance of UN special session on drugs policy in 2016.»
«Nick Clegg wants the UK to take a lead role in forging an alliance between European and Latin American countries aiming to reform global drugs laws focused on prohibition.»
«The talks between Santos and Clegg will be seen as a significant strengthening of the emerging liberal alliance on drugs reform, a move heavily resisted by the Lib Dems' coalition partners.»
Debatten i Storbritannia dreier seg om alle typer ulovlige rusmidler, men det er som i Norge oftest heroin og cannabis som blir diskutert. Artikkelen i the Guardian handler om at de som har problematisk bruk av heroin skal få help, ikke straff, men OAS-rapporten «Report on the Drug Problem in the Americas», som president Santos har sagt dette om: «This document should be known, publicized and analyzed not only in the hemisphere, but worldwide», handler også om leglisering av cannabis.
Fra oppsummeringen av OAS-rapporten, presentert i Bogota, Colombia, 17. mai 2013: "Criminal violence associated with production and transit is carried out primarily by organized transnational crime gangs, which can carry out acts of extreme violence and have diversified their activities to cover a wide range of offenses in addition to drug trafficking (smuggling of people, weapons, money, organs, intellectual piracy, smuggling, kidnapping and extortion).
The uncertainty caused by the activity of these groups or "cartels" affects not only the citizens in their physical integrity and their heritage, but society as a whole, creating situations of corruption that undermine civil and state institutions and affecting democratic governance."
"Criminal activity associated with the production, but mainly with the trafficking of drugs to the end-use countries and markets is overwhelmingly greater and more alarming than that associated with retail and consumption."
"Greater flexibility could lead to accepting the possibility of changes in national legislation or to fostering changes in international law. In the field of national legislation existing signs and trends point toward the decriminalization or legalization of the production, sale and consumption of marijuana."
Se også «Norges arbeid frem mot UNGASS 2016«, postet på facebook.
26. november 2014
«Alcohol is a much greater threat to people's health than cannabis, former Home Office minister Norman Baker has warned, saying its dangers are being underplayed [..] These figures show that we need to be less hysterical about cannabis and worried more about alcohol," said Mr Baker.»
Forhåpentligvis blir ikke debatten i Storbritannia til kun en debatt om at «bruk av alkohol er mer skadelig enn bruk av cannabis og derfor burde det settes inn flere tiltak for å redusere bruken av alkohol». Det som burde diskuteres er at det illegale markedet, med alt det medfører, er mer skadelig enn et lovlig og regulert marked.
10. februar 2015
The Guardien melder at det vil bli arrangert en konferanse den 12. mars:
«The conference will also form part of preparations for the UN general assembly special session on the world drug problem, to be held in 2016.»
«The provisional programme for the conference, to be hosted by the UK parliament's Commons home affairs committee, includes officials from Mexico's foreign ministry, legalisation campaigners such as Danny Kushlick, of Transform, and health experts such as Prof David Nutt.»
Postet om Storbritannia på facebook

Sveits
20. oktober 2021
Sveits er på god vei til å legalisere cannabis for rekreasjonell bruk. Pilotprosjektet som ledes av det sveitsiske Helsedepartementet startet i år og avsluttes i mai 2031. Hensikten er å skape et godt og kunnskapsbasert grunnlag for en fremtidig lovregulering.
Helsedepartementet sier at prosjektet vil gi et solid vitenskapelig grunnlag for en fremtidig beslutning om cannabisregulering. Det bestemmer på ingen måte utfallet av fremtidige politiske beslutninger, men det vil gi innsikt i hvordan konkrete alternativer til forbud kan utformes for å minimere sosiale og helsemessige kostnader for samfunnet.
Helsedepartementet leder prosjektet, men det er statlige og private organisasjoner som universiteter, lokale myndigheter, forskningsinstitutter, stiftelser og foreninger som gjennomfører det. Et anerkjent forskningsinstitutt må være involvert i hvert pilotforsøk. Det er satt et maks antall på 5000 personer som kan delta per pilotforsøk, og hvert pilotforsøk kan vare maks fem år.
Det er ikke så mange krav som stilles for å kunne melde seg på. Kort oppsummert må man være myndig, kunne bevise at man allerede forbruker cannabis, og være bosatt i det området hvor pilotforsøket gjennomføres.
Deltakerne vil få kjøpt hasj og marihuana i ulike typer utsalgssteder, apotek, spesialbutikk, cannabis social club ol. Dette vil bli nærmere bestemt innenfor rammen av pilotforsøkene og kommunisert til deltakerne av de ansvarlige prosjektarrangørene. Salgsstedene må ansette kompetent og godt opplært personale, ha tilstrekkelig infrastruktur på plass og holde produktene sikre mot tyveri. En rekke tiltak vil bli gjort for å beskytte mindreårige, inkludert barnesikret emballasje for cannabisprodukter og merking med passende advarsler.
Prisen vil bli satt litt høyere enn det svarte markedet for å unngå at folk melder seg på for å selge videre. Hvis noen allikevel skulle bli tatt for videresalg blir de ekskludert fra prosjektet. Det vil ikke bli krevd skatt av salget, fordi det er et forskningsprosjekt.
Dette er et veldig interessant prosjekt. Sannsynligheten for at det blir full legalisering etter pilotforsøket er stor. Kanskje til og med underveis. Det vil etter hvert bli veldig mange deltakere i prosjektet, og det er lite sannsynlig at de konkluderer med at de bør legge ned hele greia og overlate salget til det svarte markedet igjen.

Tyskland
12. september 2013
Spiegel: «Berlin's Görlitzer Park is crawling with drug dealers and all efforts to solve the problem have failed. Now, one local politician is pushing a radical idea: opening city-run shops that sell cannabis.
It takes less than 20 steps for the first offer. «Dope?» asks a young man just inside the entrance of Görlitzer Park. Ten meters further, the next dealer stands waiting for customers: «Need anything?»
Everyone agrees that things cannot continue the way they are right now — the disagreement is about what should happen next.
The Berlin chapter of Chancellor Angela Merkel's Christian Democrats (CDU) thinks the police should solve the problem. The Green Party, meanwhile, is planning a revolution: It wants to open «coffee shops» (or «cannabis cafes») in the park and legally sell marijuana as a way of eliminating the drug dealers' business model.
Reforming drug policy is a fundamental part of the Greens' political DNA. The amount of grass that a person can legally possess has ocassionally been raised in Berlin and other German states, but now Monika Herrmann, a Green Party member who is mayor of the Friedrichshain-Kreuzberg district, is trying to introduce the legal sale of cannabis.
30. november 2013
Friedrichshain-Kreuzberg, en bydel/område med ca 300 000 innbyggere, har vedtatt å åpne lovlige utsalgssteder. De er usikre på om de kommer til å få godkjennelse fra justisministeren. Forslaget er lokalt vedtatt.
16. september 2013
Deutsche Welle (DW): «Legally buying a few grams of marijuana might soon become reality in Berlin. Kreuzberg district's new mayor, Monika Herrmann, has plans to open Germany's first cannabis coffee shop.»
«This marks a significant step for those seeking drug policy reformation. «It's about getting the dealers out of business and creating a structure, in which one can buy cannabis without additives, so it's less dangerous» Georg Wurth of Berlin's Weed Organization, «Hanf Verband," told DW.»
«One of Germany's influencing factors will be the country's approaching state and federal elections, said Georg Wurth. «With a conservative government, there might still be problems, and it will take some more years until it happens. But I'm enthusiastic at the moment, and I think we will get it done. It's just a question of time.»
29. november 2013
BBC: «Councillors in Berlin have voted to launch the country's first cannabis cafe in their district.
A large majority in the Friedrichshain-Kreuzberg council have backed the move as part of efforts to curb local drug dealing, the Sueddeutsche Zeitung daily reports. District Mayor Monika Herrmann says the «prohibition policy» of the past few decades has failed: «We now have to think about offbeat solutions.»
The neighbouring Netherlands already has hundreds of so-called coffee shops where the sale of limited amounts of cannabis is tolerated.»
Coffee Shop: Launch of pilot project preparations:
«The situation in Görli shows that the prohibition policy of the last decades has failed. We must now consider unusual solutions» says District Mayor Monika Herrmann (Green). She had brought the coffee shop as a form of controlled cannabis delivery in the discussion about the drug problem this week.
«The District Parliament welcomed our initiative – now the real work begins» says Jonas Schemmel (Green), group spokesman. «The illegal drug trade hurts at the end of all, consumers and environment. We want to finally control of the trade in order to protect people from the negative consequences of the black market.»
LATIN-AMERIKA

Argentina
Argentina har gitt det første tegnet på at Uruguays banebrytende cannabisreform kan ha startet en dominoeffekt i Latin-Amerika. Etter nabolandet avgjørelse, har Argentinas drug-tzar, Juan Carlos Molina, bedt om en offentlig diskusjon i sitt land om å emulere tiltaket.
«Argentina fortjener en god debatt om dette,» sa Molina på radio. «Vi har kapasitet til å gjøre det. Vi bør ikke undervurdere oss selv.»
Bolivia
Januar 2013
Selv om det ikke gjelder cannabis så er det interessant det som har skjedd i Bolivia, med tanke på FN-avtalen. New York Times: «Traditional uses of the coca leaf in Bolivia will no longer be considered illegal under a United Nations antidrug convention.»
The Guardian skriver at da Bolivia trakk seg ut av FN-konvensjonene for deretter å melde seg inn igjen med forbehold om at bruk av coca-planter skulle være lovlig hos dem, så kunne de bli blokkert fra å melde seg inn igjen hvis en tredjedel av FNs 184 medlemsland ikke godtok det. Det britiske parlamentets komite for innenrikspolitikk anbefalte at Bolivias forespørsel skulle støttes, fordi det er viktig å holde landene innenfor FN-konvensjonene.
BBC skriver at kun femten land hadde innvendinger mot at Bolivia skulle få dispensasjon fra konvensjonene, langt færre enn de 62 som trengtes for å hindre dem i å melde seg inn igjen. FNs talsperson sa at innvendingene kom fra USA, Mexico, Japan, Russland, Canada, Storbritannia, Tyskland, Frankrike, Italia, Nederland, Sverige, Finland, Portugal, Israel og Irland.
Al Jazeera skriver at Peru og Colombia, de to andre kokainproduserende landene, ikke hadde innvendinger. Det hadde heller ingen andre land i Sør-Amerika.
Mai 2013
José Carlos Campero, consultant and a researcher on drug trafficking and organized crime in Bolivia. «From Repression to Regulation, A Latin American Proposal for Reform of Drug Policies»:
«The war on drugs has failed. New ways of tackling the problems created not only by drug trafficking but also by the prohibitionist policies and the international regime implemented for decades to fight it are urgently needed.
Regulation of the whole value chain (production, trade, and consumption), differentiated according to drug type and informed by scientific evidence, would help reduce harms to consumers and third parties and would deprive organized crime groups and other illegal actors of a large proportion of their profits.»
«The international control regime for cannabis should allow countries to choose individual cannabis policies, with the exception that production should be registered so that international trade flows of cannabis products can be monitored and controlled, avoiding diversion of production into illegal markets and into countries with a prohibition regime. The policies proposed would destroy most of the illegal cannabis markets in the countries that adopted them, leading to a significant reduction in the income of organized crime and other illegal actors. Inso far as illegal cannabis sales are the entry point for cannabis consumers for the consumption of harder drugs, the creation of legal sales outlets for cannabis would keep consumers of this particular drug away from the illegal markets and criminal groups.»

Brasil
23. juli 2013, Tidligere president i Brasil, Fernando Henrique Cardoso:
Supporting Uruguay in the Legal Regulation of Marijuana. «We encouraged experimentation with legal regulation because we believe it will undermine the power of organized crime and safeguard health and security. For this reason, I believe the current proposal to regulate marijuana in Uruguay is worthy of serious consideration."
5. november 2013, Fernando Henrique Cardoso og Kofi Annan til CNN:
«We called on governments to adopt more humane and effective ways of controlling and regulating drugs. We recommended that the criminalization of drug use should be replaced by a public health approach. We also appealed for countries to carefully test models of legal regulation as a means to undermine the power of organized crime, which thrives on illicit drug trafficking.»
19. februar 2014, Beckley Foundation:
«Et lovforslag om å legalisere og regulere cannabis til rekreasjonelt, medisinsk og industriell bruk ble presentert i det brasilianske senatet 17.2.14, og vil bli koordinert av Senator Cristovam Buarque.»
27. mai 2014, oversatt fra Senator Buarques nettside:
«Forslaget går ut på regulering av marihuana til medisinsk, rekreasjons- og industrielt bruk, og behandling som for alkohol og tobakk. Forslagsstillerne ønsker en lov som tillater dyrking, planteklubber, lisensiering av dyrking og salg til varehandel, og regulering til medisinsk bruk.»
«The consultants Senate Denis Murahovschi and Sebastião Moreira Junior present at the request of Senator Buarque (PDT-DF), a detailed study on the legal situation of the most widely used illicit substance in the world. Marijuana is consumed by 180 million people, or 3.9% of the population aged 15 to 64 years, according to the World Drug Report 2013.
A popular proposal calls for the regulation of marijuana for medicinal, recreational and industrial uses, with similar guaranteed to alcohol and tobacco treatment. The signatories want a law that allows the cultivation, the record clubs autocultivadores, licensing of establishments cultivation and sale of marijuana in the wholesale and retail trade, and regulation of medicinal use.
If signed into project, the project must go beyond the HRC, the Committee on Constitution, Justice and Citizenship (CCJ) and possibly by the Social Affairs (CAS). Only after the opinion of that committee, is that the matter should go to the plenary and, if approved, proceed to further discussion in the House of Representatives.»
10. januar 2015
O Globo: Regjeringen ønsker ikke å diskutere legalisering av cannabis, sier justisminister José Eduardo Cardozo.
«Even with the release of the marijuana trade in Colorado and Washington, in the United States, and Uruguay, the Brazilian government will be behind closed doors to the subject in this second term of President Dilma Rousseff.»
«Relaxation of drug laws was raised by lawyer Peter Abramovay shortly after being appointed to the position of national secretary Drug in 2011. But the renovation was short lived. Abramovay lost the position even before the possession by order of Dilma. The president did not want changes in the law because it is classified as conservative on the subject. The topic of discussion has been blocked also by evangelical bench, ever growing in Congress.»
«The trade liberalization of marijuana in models inspired by the American experience and Uruguayan is expected in bills introduced last year by MEPs Jean Wyllys (PSOL-RJ) and Eurico Junior (PV-RJ).»

Chile
As Chileans head to polling stations Sunday to choose who will represent its two major political coalitions in the November presidential elections, some candidates have called for changes in drug laws.
Mario Vergara, spokesman for Gómez's Radical Social Democratic Party (PRSD), believes that the current law needs to be changed as it is full of inconsistencies and because drug policy to date failed.
«For example, consumption is legal but two friends can't meet and consume, as this classifies as organised consumption," Vergara told The Santiago Times. "The same happens with carrying, as the allowed amount to carry is not specified, only that it is an amount that can be consumed 'in the near future,' whenever that is.»
Iban de Rementeria from the Chilean Harm Reduction Network states that one of the consequences of current drug policy is that it criminalises an excessive number of people.
"Eighty-five-thousand people are arrested under the drug law each year whereas only 17,000 are arrested for burglary, which is the crime the police gets most complaints about," de Rementeria told The Santiago Times. «Clearly, resources could be put to a better use.»

Colombia
Presidents Santos of Colombia, Caldéron of Mexico, and Molina of Guatemala published a joint statement, presented in a letter to UN Secretary-General Ban Ki-moon, which calls for a rigorous review of international drug policy and requests that the UN «analyze all available options, including regulatory or market measures».
The move has rightly been called a «landmark in the global drug policy debate», as it is the first time a coordinated challenge to the war on drugs has been mounted at the UN.
Joint declaration of Colombia, Guatemala and Mexico concerning UN revision on drug policy.
Endring av FN-konvensjonene for narkotika (UNGASS 2016).
25. april 2014
Colombian President Juan Manuel Santos attended a tribute to Gabriel Garcia Marquez in Mexico City where he spoke with Fusion correspondent Manuel Rueda:
«Legalisering må vedtas ikke bare av enkelte land, men internasjonalt. For vårt land handler det om nasjonal sikkerhet, for narkotikatrafikken har finanisert økende vold i over 40 år. Derfor må vi fortsette å bekjempe det, men la oss diskutere nye løsninger. Legaliseringen i USA har gjort det veldig vanskelig for oss å si til de som dyrker cannabis her at de må i fengsel mens de lovlig kan kjøpe cannabis i Colorado og Washington. Det er vanskelig å forklare. Så la oss som en moden verden, på et nivå som kan ta den type beslutninger, som land og internasjonalt samfunn, ta den diskusjonen. Hvis verden mener at det å lovliggjøre bruk av cannabis vil være en mer effektiv måte å handskes med problemene på vil jeg ikke motsette meg det. Uruguay har vedtatt å legalisere, men selv om de gjør det lovlig så er det fortsatt ulovlig å sette pengene i banken. Land for land kan ikke løse problemene. Det er et globalt problem og må løses på et internasjonalt nivå. Det beste stedet å gjøre det er i FN, og det er bestemt at dette skal diskuteres på et toppmøte i 2016. Colombia har betalt den høyeste prisen. Verden må våkne opp. Vi vinner ikke, men taper krigen mot narkotika.»

Ecuador
Republikken Ecuador er et land ved ekvator. Landet grenser til Colombia og Peru og har kystlinje mot Stillehavet. Landet har ca 15 millioner innbyggere og et areal på 283 560 km². Landets hovedstad heter Quito, den er med sine 1 865 541 innbyggere den nest største byen i Ecuador, den største er Guayaquil.
Juli 2013
Magasinet Defensa y justicia (Forsvar og rettferdighet) har et bilde av et cannabisblad på forsiden, med overskriften «Ecuador er klar til å diskutere narkotikasaken».
April 2015
Drug Law Reform in Latin America: The reform process in Ecuador is being driven mainly by the progressive political elite in coalition with academics. Ecuador's Public Defender's Office has played a very relevant role by pointing out the effects of the current legislation and orchestrating changes.
There are a few civil society organisations or social movements working on the issue, as well as groups of activists – campaigning on cannabis specifically – who influenced the design of the proposed new law, insisting on the decriminalisation of drug users.
More about the change in the approach to drugs in Ecuador in this publication by the Public Defender's Office: Ecuador está listo para debatir el tema drogas (Magasinet Defensa y justicia).
14. april 2015
Ecuador Breaks the Ice on Drug Legalization in Landmark Bill.
Ramiro Aguilar, an independent member of the Assembly, delivered fierce criticism of the bill, which he branded «preposterous» and poorly prepared. «If the intention of this parliament is to legalize the sale of marijuana, let's do it right,» he said, arguing that the decision should be made directly by the people in a referendum.
Opposition legislator María Cristina Kronfle meanwhile argued that the bill is too liberal, and would in fact promote the use and sale of drugs.
After three hours of full session, the debate in the National Assembly was suspended, but is expected to be resumed in the coming weeks.

Guatemala
Presidents Santos of Colombia, Caldéron of Mexico, and Molina of Guatemala published a joint statement, presented in a letter to UN Secretary-General Ban Ki-moon, which calls for a rigorous review of international drug policy and requests that the UN «analyze all available options, including regulatory or market measures».
The move has rightly been called a «landmark in the global drug policy debate», as it is the first time a coordinated challenge to the war on drugs has been mounted at the UN.
Joint declaration of Colombia, Guatemala and Mexico concerning UN revision on drug policy.
Endring av FN-konvensjonene for narkotika (UNGASS 2016).
4. april 2014
President Otto Pérez Molina har uttalt at det vil bli presentert en plan for legalisering av cannabis i Guatemala i løpet av 2014.
En regjeringskommisjon i Guatemala har studert forslaget, og presidenten fortalte Reuters i et intervju at han «forventer at anbefalingene blir publisert rundt oktober og at tiltak kan bli presentert i slutten av året.»
Guatemalas president sa etter lovendringen i Uruguay at «legalisering av cannabis til rekreasjonelt bruk er et viktig skritt i kampen mot internasjonal narkotikasmugling».
15. november 2014
I et eksklusivt intervju med teleSUR sier Guatemalas president Otto Perez Molina at hans regjering vil følge eksempelet til Uruguay og ta en beslutning tidlig i 2015 på om de skal legalisere cannabis. Det fremheves at saken har økende appell på tvers av det politiske spekteret i Latin-Amerika.
Postet om Guatemala på facebook

Panama
Panama er en republikk som regnes som en del av Latin-Amerika selv om den ligger helt sør i Mellom-Amerika med grense til Colombia i øst, Costa Rica i vest, Atlanterhavet i nord og Stillehavet i sør. Panama ligger som en bro mellom Nord- og Sør-Amerika. Landet har ca 3,6 millioner innbyggere, og har et areal på 78 200 km². Nesten halvparten av landets innbyggere bor i Panama City, som er hovedstad og den største byen.
3. desember 2014
PanamPost skriver at en paraguayansk høyesterettsdommer fratrer etter påstander om forbindelse med narkotikakarteller. Myndighetene har avhørt ham angående hans frigivelse av Vilmar Acosta. Acosta, fra the Red Party, tidligere ordfører i Ypehu, er under etterforskning for hans påståtte rolle i drapet på en journalist og hans assistent.»
3. mars 2015
PanamPost skriver at fortjeneste fra narkotikasmugling har bidratt til svært korrupte institusjoner, og at senator Blas Llano, som er leder av den nasjonale Kongressen ønsker å endre lovgivningen. Blas Llano sier at «så lenge narkotika forblir ulovlig så vil smugling av cannabis fortsatt være et problem» og derfor foreslår han avkriminalisering. I kilden de viser til står det avkriminalisering som i Uruguay.
Hvis dette blir tatt opp i Kongressen, og de ser på lovendringen i Uruguay, så vil de måtte diskutere også lovliggjøring og regulering av produksjon og salg, men avkriminalisering og lokale endringer i lovverket vil ikke løse problemene med smugling (som også går ut av landet).

Peru
4. januar 2014
«Peru should consider legalizing marijuana, the former head of the country's National Drug Control Commission has said. Uruguay recently became Latin America's first nation to legalize the marijuana industry, encouraging its neighbors to follow suit.
Former director of the Peruvian National Drug Control Commission (DEVIDA) Ricardo Soberon appealed to the government to consider the legalization of marijuana in an interview.
"We must open the debate with Carmen Masias, the President of DEVIDA, and the Peruvian Medical School. Let's open a forum that deals, first and foremost, with the health issues and secondly with safety and the implications of its [marijuana] use," Ricard Soberon told news website Terra. He said that the legalization of the marijuana market could be a solution to the illegal drugs trade in Peru.
In Peru the consumption of marijuana is legal and a citizen may carry up to 8 grams of the drug without being penalized. However, the production and sale of cannabis is still illegal under Peruvian law.»
Uruguay
Uruguay er en republikk i Sør-Amerika som grenser til Brasil i nord, Atlanterhavet i sør og sørøst og Argentina i vest. Landet har ca 3,4 millioner innbyggere, og et areal på 176 220 km². Landets hovedstad og største by er Montevideo.
11. november 2012
Regjeringen i Uruguay har foreslått at staten skal produsere og selge cannabis. Bruk har vært tillat i Uruguay siden 1974, men besittelse er ikke tillatt under dagens lovverk. Lovendringen, som er vedtatt av underhuset, vil regulere alt fra produksjon til salg, bruk og besittelse.
20. mai 2013
Regulación Responsable (Ansvarlig regulering) publiserte den første filmen om «hvorfor støtte lovlig regulert cannabis» på youtube.
31. juli 2013
Den historiske debatten og vedtaket om å godkjenne forslaget kunne sees på direktesending.
1. august 2013
Filmklipp fra CSM: Etter en 13 timer lang debatt vedtok politikerne i Underhuset å godkjenne lovforslaget. Det er ventet at Overhuset også vil godkjenne det.
2. august 2013
Drug Poliy Alliance: «The Uruguayan Parliament yesterday voted to pass a Bill that will legalise and regulate the production, sale, use and personal cultivation of cannabis for non medical use by adults. The Bill will now pass to the Senate for a vote (and possible amends) in October before returning to the Congress before final approval from the Board of Deputies. Although these are potential stumbling blocks, the Congress vote was 'the big one' and it looks highly likely that the Bill will now pass into law later in the year.»
2. august 2013
Transform: «At this point Uruguay will be the first national government in the world to have voted through a new law to legalise and regulate cannabis – or indeed any drug prohibited by the UN drug conventions. To this extent the change differs from the groundbreaking developments in Washington and Colorado, where the legalisation measures were passed by popular vote (via ballot initiatives), with both local State and Federal governments firmly opposed. By contrast, Uruguayan public opinion is not yet behind the legalisation move.»
70 % av innbyggerne i Uruguay støtter ikke forslaget. Det kan komme av at det er registreringsordning for å få kjøpt fra de planlagte lovlige utsalgsstedene.
5. august 2013
La Republica: Mujica told the newspaperon Monday that he hopes the opposition will seek a referendum so as to open up debate on the idea of government-regulated marijuana. «If they do not do so, I am thinking of having the government propose one so the Uruguayan people understand all this and we can also discuss what our young people are up to.»
Lovendringen i Uruguay har bare 30 % oppslutning fra folket. De har fått mye informasjon og forklaring på hvorfor lovgivningen skulle endres, men de har allikevel ikke ønsket endring. 70 % av de som bor i Uruguay støtter altså ikke lovendringen i landet. Bruk har vært tillatt i Uruguay siden 1974, men ikke besittelse. Det har gjort at de fleste ikke har hatt noen problemer med bruk (selv om de har vært i besittelse av), mens de som politiet har tatt har fått store problemer. Derfor har flertallet syntes at lovgivningen har vært ok.
6. august 2013:
«Uruguay To Sell Legal Marijuana At Low Price Of $2.5 Per Gram To Compete With Black Market. Setting prices in a legally regulated market is important: they need to be low enough to dissuade people from turning to the illicit market, but high enough so as to not encourage use.»
22. oktober 2013:
The Guardian: Prisen, som de tidligere antok å bli 15 kroner pr gram, er nedjustert til 6 kroner, for å bekjempe det illegale markedet. Postet på facebook.
9. desember 2013
CNN: «Once the bill gains approval, there will be a 120-day period to give the government time to adopt regulations to implement the law.»
10. desember 2013
Senatet har godkjent lovendringen med 16-13 stemmer.
10. desember 2013
Dette er historisk! Uruguay er det første landet i verden som vedtar å legalisere produksjon, distribusjon og salg av cannabis til voksne.
Spørsmål: Hvorfor er regnbueflagget med på bildet?
Svar: Uruguay er et foregangsland for Latin-Amerika når det gjelder LGBT-rettigheter. Bildet som CNN har valgt å bruke, med regnbueflagget, er fra LGBT-bevegelsens feiring i april: «Congress in Uruguay has voted overwhelmingly to legalise gay marriage, becoming the second country in Latin America to do so, after Argentina.» CNN endret senere bildet i artikkelen «Finally, a nation legalizes pot», nå er den illustrert med grønne planter.
Det er mange likhetstrekk mellom homobevegelsen og cannabisbevegelsen, begge deler handler om at moralisme ikke skal styre lovgivningen, fordi de man forsøker å «hjelpe med forbudspolitikk» blir stigmatisert og det oppstår en skjult kultur med alt det negative som det fører med seg. Min erfaring fra LGBT bevegelsen er at når man først har kommet ut av ett skap så er det tøft å skulle komme ut av ett til. Og da tenker jeg ikke på å «være», men å tørre å «si noe politisk om» et så tabubelagt tema som cannabispolitikk er.
CNN om kampanjen «Regulación Responsable»: «A strong coalition of LGBT, women's rights, health, student, environmental and human rights organizations joined forces with trade unions, doctors, musicians, lawyers, athletes, writers, actors and academics under the banner of Regulacion Responsable (Responsible Regulation) to support the initiative and created a lively public campaign in favor of the proposal.»
11. desember 2013: Drug Policy Alliance: «Uruguay just made history, becoming the first country in the world to legalize the production, distribution and sale of marijuana for adults.»
11. desember 2013
Hannah Hetzer (DPA), CNN: «In a closely watched vote, Uruguayan lawmakers approved a proposal to make recreational marijuana legal for adults and to regulate its production, distribution and sale. Once it's signed by President Jose Mujica, who initiated the proposal, Uruguay will be the first nation in the world to fully legalize the drug.»
Det som er spesielt er at dette er det første landet som vedtar dette, Colorado og Washington (som har andre reguleringsmodeller også) er ikke land, men delstater i et land. Det betyr at de er uenige med sitt eget lands myndigheter først og fremst. Når landet Urugauy skal regulere for rekreasjonelt bruk så vil det legge press på FN som har mulighet for å endre FN-konvensjonene for narkotika.
Desember 2013
Dokumentar fra Vice: Uruguay har 3,4 millioner innbyggere. Bruk av cannabis har vært tillatt siden 1974. I følge Vice er det 8% som innrømmer at de bruker cannabis. De første lovlige utsalgsstedene er planlagt åpnet i disse dager, men det er usikkert hvem som skal levere cannabis til utsalgsstedene. Det er allerede tillatt med hjemmedyrking, inntil seks planter.
Det er bestemt at prisen på lovlig cannabis skal være lav ($1 pr gram) for å utkonkurrere det illegale markedet. Det ble først bestemt at man kunne kjøpe inntil en ounce (ca 28 gram) lovlig per uke, men det ryktes at det vil bli nedustert til 10 gram. Når prisen er så lav og man kjøpe såpass mye er det fare for at mye av det vil solgt videre illegalt. En annen løsning kunne vært å sette prisen opp, og ha bedre kvalitet enn hva det illegale markedet tilbyr.
For å få kjøpt lovlig cannabis må kundene registrere seg, men det er usikkert hvor mange som vil gjøre det, og hvor mange som vil fortsette å kjøpe fra det illegale markedet. Mange sier at de ikke ønsker at myndighetene skal vite at de bruker cannabis, og de vil selv bestemme hvor mye de skal kunne kjøpe og bruke. Når Vice spør presidenten om dette svarer han at de ønsker registrering og mengdebegrensning for å kunne tilby hjelp til de som bruker for mye.
På spørsmål om hvordan det føles å være det første landet i verden som har vedtatt å legalisere cannabis svarer han: We call it a regulation of a market that already exitsts. Marijuana consumption already exists (approximately 200 000). The world has been fighting drug trafficking, and it's only getting worse. It's not going to disappear, but we are going to make it as hard as we can for them.» Det blir interessant å følge med på hva som skjer videre i Uruguay, om en registreringsordning klarer å utkonkurrere det illegale markedet. Postet på facebook
31. januar 2014
Myndighetene i Uruguay (National Cannabis Federation) har begynt å tilby kurs til de som ønsker å lære hvordan de kan dyrke sin egen cannabis.
9. juli 2014
President Jose Mujica sier til BBC at oppstarten av de lovlige utsalgsstedene vil bli utsatt til neste år på grunn av praktiske vanskeligheter.
23. september 2014
Seminar på Blindern (UiO) arrangert av Norwegian Latin America Research Network (NorLARNet): «Uruguay's cannabis legislation: lessons, expectations and possible implications for the global drug policy regime.»
Uruguays nye lovgivning ble fremmet av president Jose' Mujica i november 2012, og vedtatt i kongressen i juli 2013. Lovverket, hvor dyrkeområdet skal være og restriksjoner er klart, men de lovlige utsalgsstedene er fortsatt ikke åpnet.
Den 26. oktober er det nytt presidentvalg i Uruguay. Mujica kan ikke stille til gjenvalg, og det er først når den nye presidenten og kongressen er valgt at man vet hva som vil skje videre. Guillermo Garat fortalte at begge de to kandidatene, hvor man regner med at en av dem blir ny president, har lovet å ikke omgjøre loven fra 2013, men det vil muligens kunne bli gjort endringer i de planlagte restriksjonene. Postet på facebook
30. november 2014
Leonardo Haberkorn (Associated Press): Tabare Vazquez vant Uruguays presidentvalg på søndag, han tilhører den venstreorienterte koalisjonen som har bidratt til å legalisere homofilt ekteskap og skape verdens første statlige cannabismarked.
Valget har fått stor internasjonal oppmerksomhet fordi Vazquez rival, sentrum-høyre kandidaten Luis Lacalle Pou, hadde lovet å stanse planen om at regjeringen skal ha ansvar for å regulere produksjon, distribusjon og salg av cannabis.
12. februar 2015
PanamPost skriver at det er fem utvalgte produsenter som skal levere cannabis til apoteker, hvor det vil bli tillatt å kjøpe inntil 40 gram cannabis per måned for registrerte brukere. Det var 22 interesserte som meldte seg, men bare 11 gikk videre i konkurransen om å få bli en av de fem leverandørene. Utsalgsstedene er forventet å åpne senest til sommeren.
19. juli 2017
De første 16 utsalgsstedene åpner i dag, men det forhandles om 20 til.
Kundene får kjøpt to typer marihuana på apotek (inntil 10 gram pr uke), til en pris som ligger under det illegale markedet ($1,3 pr gram). Ordningen gjelder både for medisinsk og rekreasjonell bruk. Det er foreløbig under 5000 personer som har registrert seg for å få kjøpe lovlig. Registreringsordningen har blitt sterkt kritisert og det har vært mye motstand mot legaliseringen slik den ble foreslått, og ser ut til å bli. Registrering skjer med fingeravtrykk.
I tillegg er hjemmedyrking tillatt, og det er 63 lovlige cannabis-klubber hvor inntil 45 personer kan dyrke opp til 99 planter. Myndighetene (National Cannabis Federation) startet allerede for tre år siden å tilby kurs til de som ønsker å lære hvordan de kan dyrke selv. 7000 personer har foreløbig registrert seg for hjemmedyrking. Infobae om saken. New York Times om saken.
NORD-AMERIKA

Canada
26. april 2012
«Mayors from eight B.C. communities have added their voices to calls to the provincial government to regulate and tax marijuana as part of a strategy to end gang violence and make communities safer. Whatever the federal government policy is, is not working, and we're saying that we need a better approach, and that is to regulate it using a public health model, much as we do, for example, with tobacco or alcohol.»
April 2012
De politiske mulighetene for å forandre lover er ulik i Norge og Canada/USA, hvor det er mulighet for folket å fremme folkeaksjoner som kan legge inn forslag til lovendringer. Dana Larsen har startet folkeaksjonen «Sensible BC» som vil ha The Sensible Policing Act» opp til avstemning i provinsen British Columbia i Canada.
5. juni 2013
«The Sensible Policing Act has already been approved by Elections BC as valid legislation, within provincial jurisdiction and suitable for a referendum. Sensible BC is working to collect the signatures needed in order to have a provincial vote on the Sensible Policing Act, and will be starting the official 90-day signature-gathering period in September.»
The Sensible Policing Act has two main parts.
1. Decriminalize cannabis possession
2. Work towards legalization
The Act does so by prioritizing use of police resources toward substantive and serious criminal offences by re-directing the use of those limited resources in regards to simple possession of cannabis; by initiating a provincial commission to study how the government of British Columbia can properly tax and regulate cannabis once it is removed from the federal Controlled Drugs and Substances Act; and by calling on the Government of Canada to allow the Province to regulate cannabis using lessons learned from alcohol and tobacco.
This legislation would do four things, all within provincial jurisdiction:
(1) stop police from searching or arresting adults for marijuana possession in BC
(2) treat possession of marijuana by minors the same as alcohol
(3) call upon the federal government to repeal marijuana prohibition
(4) start figuring out the rules needed for legalization in BC
22. oktober 2013
Sensible BC: «We are at the halfway point, and our campaign is on track in many ridings across BC.»
9. desember 2013
Dana Larsen: «We turned in over 200 000 signatures to Elections BC on Monday, December 9. While it wasn't enough to trigger a referendum, that's still about two-thirds of the 300 000 minimum required. We will definitely be launching another signature-gathering campaign again, although the details and timing remain to be determined.»
14. januar 2014
Marc Emery, cannabisaktivist og redaktør for Cannabis Culture Magazine, startet den første (ikke lovlige) coffeeshopen i Canada. Han ble utlevert til USA i 2010 for å ha solgt cannabisfrø over internett. Han satt flere år i fengsel.
«Marc Emery is a Canadian businessman and political activist who owned and operated Cannabis Culture Magazine, Pot-TV, the BC Marijuana Party, and Marc Emery's Cannabis Culture Headquarters (previously the BCMP Bookstore, and HEMP BC before that.)»
10. oktober 2014
National Post editorial board: The long, slow path to a coherent marijuana law.
«Alcohol is no friend to developing brains either, after all. No one suggesting that consigning alcohol production and retail to the domain of moonshiners and gangsters is the best way to tackle teenage drinking. And the alcohol content of beverages is displayed prominently on the label. This is self-evidently a god idea for booze. It's unclear why it wouldn't be a good idea for pot. We encouraged that the Conservatives seem open to some improvements to Canada's unsustainable status quo.»
22. april 2015
Vancouver kan bli den første byen i Canada hvor det blir tillatt med utsalgssteder for cannabis og innført reguleringer.
Forslaget, som blir tatt opp til diskusjon i bystyret tirsdag, ignorerer helt lovligheten av cannabis og ser kun på tiltak for å håndtere de siste årenes enorme vekst av ulisensierte utsalgssteder. Det finnes mer enn 80 slike butikker i Vancouver, en firedobling siden 2012. I de siste fire månedene har 20 nye butikker åpnet.
19. oktober 2015
«Justin Trudeau has added marijuana legalization to his party platform, announcing recently that if elected, his party will work to legalize marijuana "right away". The Liberal vant valget, og det er ventet at Trudeau blir landets nye statsminister.
Andreas Fischer, BT: «Et historisk øyeblikk: For første gang har et parti stilt til valg på legalisering av cannabis – og vunnet. Det liberale partiet i Canada sikret seg flertall i parlamentet i gårsdagens valg, og den neste statsministeren, Justin Trudeau, har lovet å starte arbeidet med legalisering «right away».»
Fra partiprogrammet, som The Liberal gikk til valg på:
«To ensure that we keep marijuana out of the hands of children, and the profits out of the hands of criminals, we will legalize, regulate, and restrict access to marijuana.
We will remove marijuana consumption and incidental possession from the Criminal Code, and create new, stronger laws to punish more severely those who provide it to minors, those who operate a motor vehicle while under its influence, and those who sell it outside of the new regulatory framework.
We will create a federal/provincial/territorial task force, and with input from experts in public health, substance abuse, and law enforcement, will design a new system of strict marijuana sales and distribution, with appropriate federal and provincial excise taxes applied.»
Det blir interessant å se hvor lang tid de kommer til å bruke på å utrede en modell for legalisering, og om arbeidsgruppens forslag blir en god nok (nasjonal) løsning. Er ikke kundene fornøyd med den nye ordningen så vil det illegale markedet bestå.
20. oktober 2015
Dana Larsen: «We now have a Prime Minister who has promised to legalize marijuana in Canada. But what will legalization look like? Here's seven things the cannabis community wants to see happen before we consider prohibition to be truly over.»
16. september 2017
Canadas helsekomites høringer om Bill C-45 (direktesendt, men videoer er lagt i arkiv).
Denne uken har det vært åpne høringer om Canadas legaliseringsplaner for rekreasjonell cannabis. Det har allerede vært en lang prosess med utredninger, og det ble satt av flere timer hver dag til innspill, spørsmål og svar.
6. oktober 2017
Etter Helsekomiteens høringer om Bill C-45 blir lovforslaget sendt tilbake til The House of Commons med et par endringer. Det er signalisert at de ønsker å se på det så raskt som mulig, men at det tidligst vil bli 23. oktober.
Hvis Bill C-45 da blir godkjent vil den bli sendt videre til Senatet, som vil gjøre sin egen studie av lovforslaget.
7. juni 2018
Dagbladet skriver at lovforslaget ble vedtatt med 56 ja-stemmer mot 30 nei-stemmer i Senatet. Én stemte blankt. Da lovforslaget ble vedtatt i Underhuset i november, var det ventet at statskontrollert salg kunne begynne allerede på Canadas nasjonaldag 1. juli. Siden den gang er det gjort noen justeringer i lovforslaget, som derfor må godkjennes på nytt i Underhuset før loven trer i kraft. Nå håper regjeringen at salget skal være i gang fra august eller september.
17. oktober 2018
VG: «Cannabis selges nå lovlig i Canada». Postet hos LUHM på facebook:  De første lovlige utsalgsstedene for rekreasjonell cannabis har nå åpnet i Canada.
18. oktober 2018
The Cannabis Act creates a strict legal framework for controlling the production, distribution, sale and possession of cannabis across Canada. The Act aims to accomplish 3 goals:
keep cannabis out of the hands of youth
keep profits out of the pockets of criminals
protect public health and safety by allowing adults access to legal cannabis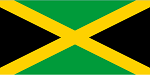 Jamaica
Jamaica, som ligger like sør for Cuba, er den femte største øya i Karibia. Landet har ca 3 millioner innbyggere, og ca en tredjedel bor i Kingston som er hovedstaden. Landet har et areal på 10 991 km².
15. juni 2013
Det er blitt utviklet en oppfatning av det jamaicanske samfunnet som marihuanatolerant, og de globale mediene har romantisert bildet av øya og dens rastafarisamfunn som storforbrukere av marihuana. Imidlertid har lover mot bruken bestått, først og fremst gjennom påvirkning fra USA, som motsetter seg lovliggjøring.
«Vi må stå opp for våre rettigheter,» sa den kjente advokaten Herren Anthony Gifford nylig på en pressekonferanse. Han tror de fleste jamaicanere vil støtte lovliggjøring av marihuana. En konferanse er planlagt i slutten av september i Kingston, i den hensikt å starte en prosess som vil føre til endring av lokale lover.
En kommisjon ledet av tidligere UWI professor, Barry Chevannes, rapporterte i 2001:
«Uansett hvilke helsefarer stoffet utgjør for den enkelte, og det er ingen tvil om at cannabis kan ha skadelige effekter, rettferdiggjør det ikke kriminalisering av tusenvis av jamaicanere.»
16. juni 2013
The Ganja Law Reform Coalition is a broad range group of individuals focused on lobbying and promulgating the increasing momentum for urgent ganja law reform in Jamaica. The Directors are Paul Chang (Chairman), Lord Anthony Gifford QC, Paul Burke (PNP), Delano Seiveright (JLP) and Mitzie Williams (who is also Chair of the Millennium Council of Rastafari Houses).
«We do NOT promote the use of ganja, We do NOT believe, that ganja should be used by minors.»
«Government should tax, regulate, control and provide public education about ganja, as it does with alcohol and tobacco.»
7. oktober 2013
Justisminister Mark Golding: «In light of international developments, particularly in this hemisphere, particularly the United States, the situation has changed. I think it's an appropriate time for us to look at reforms in this area.»
29. august 2013
Ethan Nadelmann fra the Drug Policy Allianceon on Prime Time News in Jamaica talking about Legalization of Marijuana in Jamaica.
5. september 2013
Ethan Nadelmann (DPA): «When the news broke last Thursday I was in Jamaica meeting with senior political and business figures to urge them to move forward on ganja law reform. The first question on everybody's mind was, "But what's the U.S. embassy going to do?" I was able to tell them that it's a new world, and that U.S. diplomats will be in no position to threaten Jamaica or anybody else now that the Obama administration has provided this guidance for Washington and Colorado – and others – to follow.»
«I don't want to oversell what happened on Thursday. Federal prosecutors will still be able to diverge from the Justice Department's guidelines and prosecute some of those operating legally under state law. The IRS, ATF and other federal agencies still need to change their policies regarding the emerging legal industry. Local prosecutors and police agencies already have protested the new guidelines and will no doubt try to undermine them. No one knows what a new administration will do in 2017.»
22. januar 2015
BBC: Jamaica vurderer å legalisere og produsere cannabis til medisinsk og tereapeutisk bruk.
25. februar 2015
BBC: Parlamentet har vedtatt å lovliggjøre bruk og besittelse av cannabis (57 gram).
«The law will allow Jamaica's Rastafarians to use marijuana for religious purposes. Jamaica's national security minister, Peter Bunting, said the law does not represent any easing of Jamaica's stance on the international drugs trade, or on the illegal cultivation of the plant.»

Mexico
Mexico er en nordamerikansk republikk som grenser mot USA i nord og Guatemala og Belize i sørøst. I vest ligger Stillehavet og i øst ligger Mexicogolfen og Det karibiske hav. Mexico regnes som en del av Latin-Amerika, selv om det ligger i Nord-Amerika. Landet har over 112 millioner innbyggere, og har et areal på 1 972 550 km². Hovedstaden heter Mexico City. Det bor ca 9 millioner i sentrum, men i hele området bor det ca 21 millioner.
Presidents Santos of Colombia, Caldéron of Mexico, and Molina of Guatemala published a joint statement, presented in a letter to UN Secretary-General Ban Ki-moon, which calls for a rigorous review of international drug policy and requests that the UN «analyze all available options, including regulatory or market measures».
The move has rightly been called a «landmark in the global drug policy debate», as it is the first time a coordinated challenge to the war on drugs has been mounted at the UN.
Joint declaration of Colombia, Guatemala and Mexico concerning UN revision on drug policy.
Endring av FN-konvensjonene for narkotika (UNGASS 2016).
13. juli 2012
Mexican Drug Cartels' Spreading Influence. The National Post's graphics team takes a look at the flow of drugs across the continent: «Invasion of the drug cartels».
19. juli 2013
Tidligere president Vicente Fox: «Mexico City kan komme til å lovliggjøre og regulere cannabis i løpet av de neste fem årene.»
«Fox, who battled the powerful cartels while president between 2000 and 2006, has since become a staunch advocate of reforming Mexico's drug laws, arguing that prohibition has helped create the criminal market that sustains the gangs.»
President Enrique Pena Nietohar har vært motstander av forslaget, men sier nå at avgjørelsene tatt i USA, av delstatene Washington og Colorado, har satt ham på andre tanker.
19. juli 2012
@nitas blikk: «Mexico og den blodige krigen mot narkotika».
12. april 2013
Interpol advarer om at den mexicanske mafiaen er på vei inn i Europa. «Mexican criminal groups are attempting to establish themselves as key players in the European drugs market.» Norge er et land med god valuta og høy betalingsvillighet.
26. juli 2013
The Washington Post: «Mexico City considers making marijuana legal».
Fernando Gómez Mont was Mexico's interior minister in the administration of Felipe Calderón. Jorge G. Castañeda was minister of foreign affairs in the administration of Vicente Fox:
«A growing number of Mexicans are asking logical questions: Why should their leaders follow a path that provokes violence, generates human rights violations, erodes the country's image abroad and costs a fortune – mainly to stem the northern flow of drugs? Why spray and uproot marijuana fields in the hills of Oaxaca, search for tunnels in Tijuana and incarcerate «weed» traffickers in Monterrey if consumption is made legal in parts of the United States?»
«These sentiments are part of the reason for a change in Mexican attitudes toward drugs in general and marijuana in particular. Two former presidents — Ernesto Zedillo and Vicente Fox, who both vigorously fought drug trafficking and consumption while in office — have concluded that this approach is doomed and that a better policy would include decriminalizing marijuana use and commerce.»
President Enrique Peña Nieto opposes legalization but seems open to a broad debate and to whatever consensus would emerge — locally, nationally or regionally. He may accept Mexico City's decision even if he doesn't like it, much as President Obama seems to have resigned himself to the Colorado and Washington legislation.»
15. oktober 2013
Ethan Nadelmann, Drug Policy Alliance: «Mexico City is looking to follow in the footsteps of Colorado and Washington and will consider proposals that would legalize marijuana for adult use.»
25. januar 2014
«A Mexican drug cartel's rise to dominance», written by: Theunis Bates, senior editor at The Week's print edition.
«The Sinaloa cartel is now the world's biggest supplier of illegal narcotics. How did it become so powerful?»
«The city's Crime Commission has branded Sinaloa's elusive leader, Joaquín Guzmán, also known as El Chapo (or Shorty), Public Enemy No. 1 — a title last held by Al Capone. «What Al Capone was to beer and whiskey,» said commission member Arthur Bilek, «Guzmán is to narcotics.»»
«Sinaloa can be exceedingly brutal — it left 14 severed heads in iceboxes outside a mayor's office in the northern Mexican city of Nuevo Laredo in 2012. But compared with other cartel leaders, El Chapo is a practical businessman who prefers «bribe over bullet.» He invests millions in corrupting police and government officials in Mexico rather than intimidating them with violence.»
13. februar 2014
Drug Policy Alliance: «Today, two bills were introduced in Mexico City that would reform drug policies in North America's largest city and on a national level.»
«Possession of less than 5 grams of marijuana would not lead to any form of prosecution or jail time. Additionally, the bill establishes threshold quantities for cocaine, heroin and other illicit substances, under which people who use drugs can be referred to a «Dissuasion Committee» – based on principles of collaboration and human rights – that offers information and support to minimize the risks and harms of drug use.»
«The bill also creates a mechanism for establishing spaces for the safe production and distribution of marijuana, aimed at removing people who use marijuana from the violence of the illicit market. These spaces are not permitted to sell other substances, including alcohol and tobacco; cannot sell adulterated marijuana; cannot sell to minors or be near schools; and must grant access to government health officials to educate consumers about the effects of cannabis, harm reduction, prevention and treatment. If these and other criteria are met, the government's Institute for the Attention and Prevention of Addictions will permit them to supply marijuana.»
14. februar 2014
Epic Dash: «A Mexican Drug Lord's Home Was Raided.»
«The money and valuables found in this one house alone, would be enough to pay for health insurance for every man woman and child in the USA for 12 years!»
«There is estimated to be approximately 27 more of these houses in Mexico alone. Not to mention the ones in other countries who are enriching themselves in the drug trade.»
«These people have so much money, they make the Arab oil sheiks look like welfare recipients. Their money can buy politicians, cops, judges, etc.»

17. februar 2014
Vicente Fox, former president of Mexico: «For Mexico, legalization is freedom.»
23. februar 2014
TV2 melder på nyhetene at El Chapo' Guzman, leder for et av de største kartellene i Mexico, er arrestert – det betyr at jobben hans blir overtatt av noen annen som ønsker å tjene store penger på det illegale markedet (noe som vil føre til enda mer krig og elendighet der, frem til det er avklart hvem som «vinner den kampen» og overtar).
21. november 2014
Seminar arrangert av NorLARNet: «Winning the drug-war or dismantling democracy in Mexico? Causes and consequences of the Iguala massacre.»
«Drapet på 43 studenter er den siste alvorlige hendelsen i Mexicos blodige narkotikakrig. Det var dette den unge mexicaneren ville rette oppmerksomheten mot da han avbrøt utdelingen av Nobelprisen. – Vær så snill, Malala. Glem ikke Mexico, skal han ha sagt før politiet tok hånd om ham, i følge CNN Mexico. Mer enn 80 000 mennesker er drept, og ytterligere 22 000 er savnet siden 2006»
15. januar 2015
Mexico's Ambassador to the UN has raised hopes that the country could explore legalizing marijuana in the not so distant future.
Speaking to Excelsior Ambassador Jorge Montaño said: "What we are also raising (at the UN) … [is] we will regulate the use of marijuana for recreational purposes.»
Montaño stated that this issue will be raised, at the earliest, at the 2016 United Nations General Assembly Special Session (UNGASS) on drugs that the governments of Mexico, Guatemala and Colombia successfully pushed for in 2012.
The ambassador cited the decision of a number of US states to legalize marijuana as a primary reason for Mexico considering this push, and emphasized that cooperation is needed between countries when exploring regulation.
4. november 2015
Høyesterett i Mexico har avgjort at bruk og besittelse av cannabis er en grunnleggende menneskerettighet. Retten til personlig frihet er nedfelt i Mexicos grunnlov. Staten kan ikke hindre deg fra feks å spise sukker eller junkfood selv om det ikke er bra for helsen din. Så lenge du ikke skader andre mennesker, har du selvbestemmelsesrett. Høyesterett i Mexico fant at cannabis faller inn under denne kategorien.
Høyesteretts avgjørelse skjedde i forbindelse med at fire personer sto tiltalt for å ha dyrket cannabis til eget bruk. De ble frikjent. Kjennelsen vil skape presedens, ikke bare gjeldende for disse, når flere lignende saker har vært oppe til behandling i rettssystemet. Det er ventet at kjennelsen vil være starten på en større endring i lovgivningen, og at det kan resultere i et politisk vedtak om lovliggjøring og regulering lignende feks Uruguays modell. Postet på facebook.
27. desember 2015
Kongressen i Mexico har annonsert at det vil bli gjennomført en serie med offentlige høringer og andre debatter om lovliggjøring og regulering av cannabis, fra 25. januar til 17. februar 2016.
I en pressemelding sier Jesus Zambrano Grijalva, president for den faste kommisjonen til Kongressen: «Bare en omfattende endring kan redusere dette samfunnsproblemet, fordi vi forstår at forbudspolitikken og volden som oppstår i kampen mot organisert kriminalitet knyttet til forbruk og smugling ikke har gitt de forventede resultater.»
«Kongressen vil i form av utveksling av informasjon, vurderinger og debatter, der lovgivere og spesialister deltar, kunne diskutere, stille spørsmål, lytte til meninger og forslag om hva som bør være en helhetlig politikk for landet.»
«Dette arbeidet er ikke bare av nasjonal, men global interesse.»
Det var Mexico, Colombia og Guatemala som krevde å få det internasjonale kontrollregimet opp til debatt i FN.
I sin felleserklæring sa de blant annet: «Så lenge strømmen av inntekter fra narkotika og våpen til kriminelle organisasjoner ikke stoppes, vil de fortsette å true våre samfunn og myndigheter.»
OAS (som i UNGASS-prosessen blir trukket frem som spesielt relevant) har blant annet sagt: «Den kriminelle aktiviteten som er knyttet til produksjon, men spesielt til smugling til sluttbrukerland og markeder, er overveldende større og mer skremmende enn det som er assosiert med (lovlig) salg og forbruk.»
Det er positivt at Mexico ser på lovliggjøring og regulering som en løsning, men selv om de endrer lovverket nasjonalt så løser det ikke problemene knyttet til produksjon og smugling til andre land.
Når Canada og flere delstater i USA legaliserer så vil presset øke på de land (og delstater) som ikke gjør det, både i latin-Amerika og andre steder, også i Europa og Norge (samarbeid eller konkurranse med dagens leverandører til og i sluttbrukerland). Den illegale økonomien og hvitvaskingen er også grenseoverskridende. De globale problemene består. Postet på facebook.

USA
Se også denne siden som blir holdt oppdatert med informasjon om hvilke delstater i USA som har vedtatt, eller holder på med arbeid for, å lovliggjøre og regulere cannabis for rekreasjonell bruk.
Det er nå åtte delstater i USA som har vedtatt å lovliggjøre cannabis for rekreasjonell bruk, inkludert produksjon og salg: Alaska, California, Colorado, Maine, Massachusetts, Nevada, Oregon og Washington.
I tillegg er bruk/besittelse og hjemmedyrking lovliggjort (men ikke produksjon og salg) i hovedstaden Washington DC. og i delstaten Vermont.
USA er underlagt de internasjonale FN-konvensjonene, men Obama-regjeringen har godtatt legaliseringene. USA har ikke legalisert, men det vil legge press på landets politikk etterhvert som flere delstater gjør det samme. USA oppfordrer til en internasjonal debatt om FN-konvensjonene i forkant av UNGASS 2016.
Desember 2012
Washington Post: «In an interview with ABC News, President Obama told Barbara Walters that recreational pot smoking in states that have legalized the drug is not a major concern for his administration. "It would not make sense for us to see a top priority as going after recreational users in states that have determined that it's legal [..] «We've got bigger fish to fry» Obama said of marijuana smokers in Colorado and Washington, the two states where recreational use is now legal.»
29. august 2013
Nå har administrasjonen uttalt seg. CNN melder at justisminister Eric Holder sier at det amerikanske justisdepartementet vil tillate cannabislovgivningen i Colorado og Washington å tre i kraft, så lenge de forholder seg til regjeringens «Guidance regarding marijuana enforcement».
Guidance regarding marijuana enforcement
Priorities that are particularly important to the federal government:
– Preventing the distribution of marijuana to minors.
– Preventing revenue from the sale of marijuana from going to criminal enterprises, gangs and cartels.
– Preventing the diversion of marijuana from states where it is legal under state law in som form to other states.
– Preventing state-authorized marijuana activity from being used as a cover or pretext for the trafficking of other illegal drugs or other illegal activity.
– Preventing violence and the use of firearms in the cultivation and distribution of marijuana.
– Preventing drugged driving and the exacerbation of other adverse public health consequences associated with marijuana use.
– Preventing the growing of marijuana on public land and the attendant public safety and environmental dangers posed by marijuana production on public land.
– Preventing marijuana possesion or use on federal property.
Det er lagt inn forslag om å lovliggjøre bruk av bankkort i forbindelse med cannabishandel, men det er juridisk vanskelig.
30. august 2013
Jon Walker, forfatter av «After Legalization: Understanding the future of marijuana policy»:
Obama-administrasjonen hevder nå at deres hovedmål for de stater som legaliserer cannabis er å gjøre det trygt, strengt regulert, og at det holdes borte fra organisert kriminalitet.
Hvis Obama-administrasjonen er oppriktig på at de ønsker å fremme disse prioriteringene må de tillate cannabisindustrien å bruke banker. Det vil i stor grad hjelpe til med å sikre at industrien blir trygg og fri for kriminalitet.
2. oktober 2013
Colorados og Washingtons guvernører oppfordrer til å finne en løsning for cannabis og banker.
Forrige uke sendte guvernørene John Hickenlooper og Jay Inslee et brev til føderale finansielle tjenestemenn og ba om en løsning på den nåværende situasjonen som forbyr den lovlige cannabisindustrien å bruke banker, uten frykt for rettsforfølgelse.
«Våre stater vil snart gi lisens til hundrevis av butikker, som alle, uten et normal bankforhold, vil bli tvunget til å gjennomføre all virksomhet kontantbasert. Dette gjør dem til et unødvendig mål for kriminell aktivitet.»
9. november 2013
The National Association for the Advancement of Colored People (NAACP) er en av de eldste og mest innflytelsesrike borgerrettsorganisasjonene i USA. Formålet til organisasjonen er å "sikre alle personer like rettigheter når det gjelder politikk, utdanning og sosiale og økonomiske forhold, samt å fjerne rasehat og rasediskriminering".
NAACP's Board of Directors passed a resolution last month in support of H.R. 1523 – the Respect States Marijuana Laws Act. Introduced in April by Rep. Dana Rohrabacher (R-Calif.), the legislation is designed to protect both medical and recreational pot users from federal prosecution for following state laws.
19. januar 2014
President Obama says marijuana no more dangerous than alcohol. Postet på facebook
14. februar 2014:
Denver Post: «Bankene fikk i dag grønt lys ​​for å tilby tjenester til den lovlige cannabisindustrien, men må fortsette å rapportere mistenkelig aktivitet tilknyttet industrien til føderale myndigheter.
Dette historiske skrittet bringer cannabisbedriftene nærmere legitimitet i de delstater der cannabis allerede er lovlig, men kommer til kort i forhold til den lovgivende handling mange banker ønsker å se før de gjør forretninger med de som driver med cannabis. Det vil det være opp til Kongressen å vurdere.»
The Financial Crimes Enforcement Network (FinCEN)s oppgave er å beskytte det finansielle systemet fra ulovlig bruk og bekjempe hvitvasking og fremme nasjonal sikkerhet gjennom innsamling, analyse og formidling av finansiell etterretning og strategisk bruk av finansmyndigheter.
«FinCEN har i samarbeid med USAs justisdepartement utstedt en veiledning som klargjør forventninger og krav til rapportering for finansinstitusjoner som ønsker å tilby tjenester til cannabisvirksomheter. Det vil bidra til større finansiell åpenhet i cannabisindustrien og redusere farene forbundet med å gjennomføre en «all-cash business». Amerikansk politi vil ha større innsikt i cannabisvirksomhet generelt, og vil være i stand til å fokusere på aktivitet som presenterer prioriterte bekymringer. Nå som enkelte stater har valgt å legalisere og regulere handel med cannabis vil FinCEN få den skjulte økonomiske driften av cannabisvirksomheter opp i lyset. FinCEN lager regler og forskrifter som amerikanske finansinstitusjoner, som banker og andre pengeoverføringsvirksomheter, må følge for å beskytte det amerikanske finansielle systemet fra hvitvasking av penger og terrorfinansiering.»
Ethan Nadelmann, Drug Policy Alliance: «Many banks have been afraid to open checking or savings accounts for legalized marijuana businesses out of fear of breaking federal law. As a result these businesses are forced to deal with large amounts of cash, creating public safety risks for employees, bystanders, and police officers.»
«It appears that the Obama Administration is trying to provide as much protection as possible for the marijuana industry, given the constraints of federal law. The assurances the administration have provided appear fairly substantial and will hopefully prove sufficient so that banks will feel safe doing business with the marijuana industry. I have to say I'm impressed by how the White House is trying to make this work, especially given the inability of Congress to do anything constructive in this area.»
16. juli 2014
I en historisk avstemning i dag vedtok U.S. House of Representatives at finansdepartementet ikke skal bruke noen midler til å straffe finansinstitusjoner som yter tjenester til cannabisbedrifter som er lovlig under statlig lovgivning. Endringen ble vedtatt 231-192.
Ettersom cannabis fortsatt er oppført på narkotikalisten vil, i henhold til føderal lov, de fleste banker ikke være villige til akseptere kontoer tilhørende cannabisindustrien. Dette har tvunget bransjen til å være kontantbasert, noe som skaper mange problemer, fra økt risiko for ran til at de fysisk ikke er i stand til å betale sin skatt uten å bli bøtelagt av skattemyndighetene.
Dessverre for cannabisindustrien, vil den vedtatte lovendringen i U.S. House of Representatives ikke bli godkjent. The White House har utstedt en veto trussel mot lovforslaget av flere grunner. Likevel er det et viktig tegn på hvor mye politikken rundt cannabis er i endring i Kongressen, og det sender et signal til føderale byråer om hva U.S. House mener er den beste bruken av sine begrensede ressurser. Det faktum at saken har vist seg å ha flertall i U.S. House gjør det mer sannsynlig at problemet vil bli behandlet på et eller annet tidspunkt.
9. oktober 2014
Offisiell uttalelse på vegne av USA i forbindelse med UNGASS 2016.
Trends in Global Drug Policy, William R. Brownfield, New York.
Brownfield, som snakket på vegne av USAs myndigheter, sa at alle land som har signert FN-konvensjonene for narkotika er bundet av avtalene, men mye har skjedd siden de ble laget i 1961. Myndighetene i USA mener at alle landene må respektere konvensjonene, men det bør være fleksibilitet i forhold til hvordan de tolkes av hvert enkelt land.
USA oppfordrer til en internasjonal debatt om FN-konvensjonene i forkant av UNGASS 2016.
Postet på facebook
13. januar 2015
Republikaneren Chuck Grassley og demokraten Dianne Feinstein har sendt et felles brev til utenriksminister John Kerry og et til justisminister Eric Holder hvor de uttrykker sine bekymringer over at legalisering av cannabis i noen delstater er i direkte konflikt med de internasjonale konvensjonene. Tom Angell, leder av Marihuana Majority, er helt enig. Men hva de skal gjøre med, er de ikke enige om.
Senator Grassley fra Iowa og Feinstein fra California skriver i sine brev til Kerry og Holder at Obama-administrasjonens beslutning om ikke å forstyrre delstatenes legalisering av cannabis til rekreasjonell bruk, gjør det vanskelig for USA å deretter forsvare forpliktelsene i forhold til FN-konvensjonene for narkotika, som sier at cannabis bør begrenses til vitenskapelig og medisinsk bruk.
I høst sa assisterende utenriksminister William Brownfield, på vegne av USA, at det bør tillates en fleksibel tolkning av konvensjonene.
Angell er enig i at det er inkonsekvent. «Når USA tillater delstater å lovliggjøre cannabis for rekreasjonell bruk gjør det det vanskelig for amerikanske tjenestemenn å gå rundt i verden og si at de skal fortsette å forby cannabis».
I motsetning til senatorene tar han derimot til orde for at USA skal gi sin støtte til endring av FN-konvensjonene.
I Grassleys og Feinsteins brev til Holder, ber de justisdepartementet om å sammenstille data og se på den samlede effekten av å la delstater legalisere – for eksempel om det gjør det lettere for mindreårige å få kjøpt cannabis.
Angell spår at det vil vise at det genererer skatteinntekter, reduserer størrelsen på det svarte markedet og at det generelt vil støtte saken for legalisering. Postet på facebook
20. februar 2015
Det er lagt inn lovforslag om å lovliggjøre og regulere cannabis på føderalt nivå i USA.
Jared Polis fra Colorado (D-CO) og Earl Blumenauer (D-Ore) fra Oregon har introdusert to lovforslag for USAs Kongress:
H.R. 1013, The Regulate Marijuana Like Alcohol Act, vil fjerne cannabis fra listen over «Controlled Substances Act» og lovliggjøre og regulere cannabis som en handelsvare lignende tobakk og alkohol.
H.R. 1014, The Marijuana Tax Revenue Act of 2015, vil lage et rammeverk for skatter og avgifter, og inneholder dessuten et krav til skattemyndighetene om å produsere periodiske undersøkelser av cannabisindustrien for å gi anbefalinger til Kongressen.
Med tanke på UNGASS 2016 så blir det veldig spennende å følge denne saken videre, fordi dette kan få i gang en stor offentlig debatt i forkant av toppmøtet i FN. Flertallet av de som bor i USA ønsker å lovliggjøre og regulere cannabis. Det kan gjøre at USA tar det opp som problem i FN at konvensjonene ikke åpner for det som amerikanerne ønsker å gjøre. Postet på facebook
26. februar 2015
Washington DC, hovedstaden i USA, har vedtatt endringer i cannabislovgivningen. Lovliggjøringen trådde offisielt i kraft i dag. Bruk og besittelse er nå lovlig.
Cannabis er fortsatt ikke tillat på føderalt nivå, og DC. er byen hvor FBI, Justidepartementet, DEA, og andre føderale politiavdelinger holder til.
Distriktets lover gjorde at lovliggjøring av produksjon og salg (utover hjemmedyrking) ikke kunne settes opp til avstemning på samme måte. En måned etter folkeavstemningen ble et politisk forslag fra bystyret om å lovliggjøre produksjon og salg, lignende i de delstater som har legalisert, blokkert av Kongressen. Lovendringen er altså ikke blokkert, det er fortsatt lovlig å være i besittelse av og bruke cannabis, og dyrke noen planter til eget bruk (og gi bort, men ikke selge). Det er tilleggsforslaget om lovlig produksjon og salg/kjøp som er blokkert.
22. april 2015
Kongressmedlem Dana Rohrabacher (R-Calif.) har reintrodusert et lovforslag som kan løse konflikten mellom statlige og føderale lover i USA – «The Respect State Marijuana Laws Act of 2015 (H.R. 1940)».
Lovforslaget vil ikke legalisere cannabis på føderalt nivå eller tvinge noen stater til å legalisere, men vil gjøre at de statene som legaliserer blir unntatt fra føderal lov. Forslaget ble først introdusert i 2013, men denne gangen får det støtte fra en gruppe politikere. Huffington Post skriver at de fleste amerikanere støtter et slikt forslag. Hvis det blir vedtatt vil det kunne gi bankene den tryggheten de trenger for å akseptere kontoer tilhørende cannabisindustrien. Postet på facebook
23. april 2015
Etter seks år som USAs justisminister kunngjorde Eric Holder i fjor sin avgang i påvente av godkjenning av en etterfølger. Loretta Lynch vant denne uken Senatets godkjenning som ny justisminister. I likhet med Eric Holder sier også hun at delstatenes egne cannabislovgivninger skal respekteres.
I følge Bloomberg er Lynch spesielt opptatt av å arbeide mot terrorisme, datakriminalitet og offentlig korrupsjon. Den nye justisministeren ønsker at økonomien i cannabisindustrien ikke skal bidra til korrupsjon og hvitvasking, og støtter FinCENs retningslinjer for bankene. Det kan bli et viktig bidrag i debatten når «The Respect State Marijuana Laws Act» skal stemmes over. Blir den vedtatt vil det kunne gi bankene den tryggheten de trenger for å akseptere kontoer tilhørende cannabisindustrien.
3. juni 2015
The McClintock-Polis Marijuana Amendment, et lovforslag fra Jared Polis (D-CO) og Tom McClintock (R-CA) ble så vidt nedstemt med 206-222 stemmer.
The McClintock-Polis Amendment ville ha forhindret Justisdepartementet i å gripe inn i forhold til delstatenes lovliggjøring og regulering av cannabis. Rep. Earl Blumenauer (D-Ore): «I was disappointed to see Congressman McClintock's amendment narrowly fail.» The Denver Post: «The amendment would have prevented the DEA from prosecuting individuals who use, sell, or possess marijuana in compliance with state laws. This measure would provide much-needed certainty to marijuana businesses that they can operate free from harassment and interference by federal drug authorities.»
Lovendringen, som bare var noen få stemmer i fra å bli vedtatt, ligner veldig på Dana Rohrabacher (R-Calif.) lovforslag «The Respect State Marijuana Laws Act of 2015» (H.R. 1940), som ble lagt inn i april, og som er på vei opp i det politiske systemet. Postet på facebook
4. november 2015
Senator Bernie Sanders har introdusert «Ending Federal Marijuana Prohibition Act» i USAs Senat, et lovforslag om å fjerne det føderale forbudet og lovliggjøre cannabis som en handelsvare lignende alkohol.
Lovforslaget til Senatet er en oppfølging av «HR 1013, The Regulate Marijuana Like Alcohol Act», et tverrpolitisk lovforslag som Jared Polis introduserte i Kongressen (House) i februar sammen med blant annet Earl Blumenauer og Dana Rohrabacher.
Hvis Senatet vedtar lovforslaget vil cannabis bli fjernet fra «Controlled Substances Act», og det blir opp til delstatene å selv avgjøre om de vil lovliggjøre og regulere produksjon/salg og bruk av cannabis innenfor sine egne grenser.
Sanders sier at «det er absurd at cannabis er satt i samme kategori som heroin» og at «tiden er overmoden for å fjerne det føderale forbudet».
– Obama-administrasjonen har tillatt delstatene å lovliggjøre og regulere cannabis for rekreasjonell bruk. Det er et godt skritt fremover, men ikke godt nok, fordi en ny administrasjon kan ha et annet synspunkt og straffeforfølge cannabisvirksomhetene til tross for hva delstatene har vedtatt.
The New York Times publiserte i fjor i en artikkelserie hvor de anbefaler at cannabis bør lovliggjøres på føderalt nivå.
Polis sier at «lovforslaget til Senatet er en milepæl i bevegelsen for å reformere landets narkotikapolitikk».
Også med tanke på UNGASS er dette veldig spennende. Det sender et sterkt signal til FN om at det er på tide med endring. Postet på facebook.
29. juli 2016
Da politisk reporter Brandon Rittiman spurte Donald Trump om hvordan han vil forholde seg til delstatenes legaliseringer hvis han blir president, svarte Trump at han ikke ville tillate føderalt politi å gripe inn, men la det være opp til delstatene hva de ville gjøre, fordi han var en sterk tilhenger av delstatenes selvbestemmelsesrett.
12. april 2017
President Donald Trump har utnevnt Tom Marino som Drug czar og Jeff Sessions som justisminister. De er begge kjent for å være sterkt i mot lovliggjøring av cannabis, og har varslet en hardere linje.
4. januar 2018
Justisminister Jeff Sessions har bestemt at retningslinjene som ble innført av Obama-administrasjonen, om at det er opp til delstatene selv å avgjøre hvilke lover de vil ha for cannabis, ikke lenger er gyldige. Donald Trump har gått vekk fra det han sa før han ble valgt til president, og sier nå at han er sterk tilhenger av at delstatene må følge føderale lover.
Se egen side for USA: delstater som regulerer cannabis som alkohol
OSEANIA

New Zealand
New Zealand er en uavhengig stat med 4,6 millioner innbyggere. Landet ligger i det sørvestlige Stillehavet og består i hovedsak av Nordøya og Sørøya. Auckland er det største urbane området med 1 397 300 innbyggere. Hovedstaden Wellington er det nest største urbane området med 386 000 innbyggere. Begge byene ligger på Nordøya. Det sammenlagte arealet for New Zealand er 268 680 km², sammenlignbart med De britiske øyer. Landet er et parlamentarisk demokrati.
20. oktober 2017
NZ Herald: «A public referendum on legalising cannabis for personal use will be held by the 2020 election as part of the agreement between the Green and Labour parties. According to The Green Party, its drug law reform policy indicates that it aims to make cannabis legal for personal use, including possession and cultivation of the drug.»
Leave a Reply